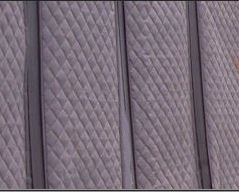 Sound Seal manufactures heavy duty, weather resistant Sound Curtains for outdoor applications.
(PRWEB) November 24, 2013
Sound Curtain Panels Model BBC-13X-2" have been specified by NYC DEP to help mitigate the noise that will occur during the repair of the Delaware Aqueduct Rondout.
Sound Curtain Panels consist of both a sound absorbing layer of quilted fiberglass and a noise blocking layer of a reinforced mass loaded vinyl noise barrier. Each panel is fabricated with grommets at the top and bottom and exterior grade Velcro seals along the vertical edges. The 12' high panels join together and are suspended on a chain link fence enclosing the 1200 feet long X 12 feet high job site. Sound Seal Sound Curtain panels are manufactured in Agawam, MA.
The Delaware Aqueduct Rondout supplies half of NYC with 1.3 billion gallons of water a day. DEP has been monitoring two leaks since the 1990's that release between 10-35 million gallons a day.
The repair will consist of building a 3 mile bypass tunnel under the Hudson River consisting of 2 shafts between 700-900 ft. deep. The project is estimated to cost 1.2 billion, and is being overseen by NYC DEP.
About Sound Seal
Sound Seal offers a wide product selection to the soundproofing industry. Sound Seal has stayed true to this vision and consists of three product lines: The Industrial Division manufactures products designed to reduce noise in a wide variety of industrial, construction and HVAC applications. Our Industrial Division manufactures flexible noise control products; such as construction site sound curtains, acoustic enclosures, mass loaded vinyl noise barriers, wall absorbers, indoor enclosures, flexible noise barriers and other soundproofing products. For more information visit http://www.soundcurtains.com and http://www.soundseal.com.