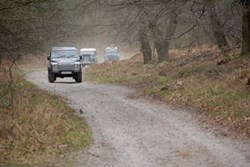 Every owner's needs and vehicles are different.
Birmingham, West Midlands (PRWEB UK) 28 November 2013
Heritage Classic Car Insurance provides classic car lovers with tailored insurance policies to protect their treasured vehicles and are now offering specialist Land Rover insurance to customers.
Since 1948, the Land Rover has held a special place in our hearts. So it's come as a bit of a blow when Jaguar Land Rover announced they would cease production of the Defender model in December 2015.
Last year, over 251,632 Land Rovers were sold to self-proclaimed 'landies' and with that, came a surge of demand for on-road and off-road specific policy enquiries. Understandably, it makes sense to shop around for a decent, affordable insurance quote that ticks all the necessary boxes when it comes to coverage. This is where Heritage Insurance comes in.
Martin Hamer, Heritage Classic Car Insurance's resident Land Rover and 4x4 expert said: "When it comes to Land Rovers and 4x4s, there's no such thing as a standard policy. Every owner's needs and vehicles are different, so it's important your broker understands both your vehicle and what you intend to do in it, so they can build the right policy for you."
Heritage Classic Car Insurance have been protecting Land Rovers and 4x4s since 1965. Heritage Classic Car Insurance's experienced team is made up of true enthusiasts and experts that understand what you want from your cover.
"Some customers are a bit apprehensive when it comes to revealing modifications to their vehicles or discussing planned off-road activities. It's important to be completely honest with insurers to ensure your policy gives you the cover you need," Martin continued.
But what is it about the Land Rover Defender in particular that we love so much?

It's easy to repair
It offers all-weather roadworthiness
The first model was modelled on a World War II Jeep
The distinctive design of the Defender makes it easy to distinguish from other models
More than two million have been sold since the car first appeared
With owners and enthusiasts already mourning the loss of the Land Rover Defender, ahead of its 2015 cut-off date, experts predict a surge in interest in the Land Rover 'cult' movement.
To find out more about Heritage Classic Car Insurance and the services they provide call 0121 2489229 or visit http://www.heritage-quote.co.uk.
-Ends-
For further information on the story and to access supporting imagery, please contact:
Andrea Seed, PR Director, Poppyseed Media
Tel: 07812 010 765 Email: andrea(at)poppyseedmedia(dot)co(dot)uk
About Heritage Classic Car Insurance
Heritage Classic Car Insurance are one of the leading insurance providers in the UK. The company was established in 1965 and supplies vehicle insurance, motor trade insurance and personal insurance. Heritage are experts in the field and have several exclusive schemes available from some of the top insurers. For any further enquiries, visit http://www.heritage-quote.co.uk.