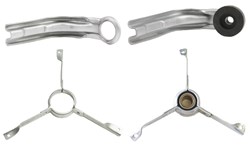 Oshkosh, WI (PRWEB) November 26, 2013
Triangle has capabilities in both full and partial assemblies for all of their HVAC components. Some customers utilize Triangle for full, complete assemblies of cushioned bearings, or just a partial assembly of pre-forming belly bands.
Purchasing full assemblies allows customers to cut down on their own internal assembly time and it can be a more cohesive shipping option. This efficient alternative is most beneficial for customers who purchase high volumes of the same products, custom or standard.
Assembly can require many repetitive and time consuming tasks, and this responsibility can be transferred to Triangle who can assemble their own components or include products purchased elsewhere.
Full assembly options include cushioned bearings, motor mounts with grommets and ferrules, crimped or welded tri or quad arm brackets and any customized assemblies. Partial assemblies can include pre-formed belly bands, un-assembled tri or quad arm brackets or any combination of grommets, ferrules and motor mounts.
Triangle can also supply OEMs with supporting machinery for on-site assembly, such as motor mount assembly fixtures which allow for Triangle's components to be seamlessly integrated into existing systems and assembly lines.
The benefits of offloading assembly responsibilities vary between customers, but most prefer receiving assembled products, just-in-time and ready to be included in their full product without waste of time, warehouse space or labor costs.
About Triangle Manufacturing
For almost a century, Oshkosh, Wisconsin's Triangle Manufacturing Company has used a foundation of experience paired with technical know-how and advanced automation to be the leader in fully customizable metal fabrication, product innovation and invention. We have introduced and redesigned fresh products that are progressive in their respective industries. Whether you need lazy susan bearings and HVAC components, pillow block mountings and blower bearing brackets or rod ends and direct-drive motor mounts, you can rely on Triangle Manufacturing's Creative Engineering. For more information, samples or quotes, visit us at http://www.TriangleOshkosh.com.
Contact:
Kylie McGowan
Marketing Coordinator
http://www.TriangleOshkosh.com
info(at)triangleoshkosh(dot)com