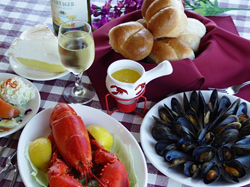 (PRWEB) November 23, 2013
In a November 19 article by The Huffington Post, American retailers are profiled for recycling previous years' Black Friday specials. The news source sites a NerdWallet analysis of 25 advertisements from 2013. The analysis reveals that 92 percent of 2013 Black Friday deals involve the same products at the same prices as advertised in 2012. In fact, some retailers are offering the same products at a higher price. Target, for example, features a Black Friday deal on the KitchenAid Classic Plus Stand Mixer for $199.00. The popular retailer offered the same product for $15.00 less in 2012.
GetMaineLobster.com, however, is in the minority of retailers that are featuring a variety of different products at even greater Black Friday discounts than were offered last year. In 2012, the live Maine lobster delivery service offered some products at 50 percent off, while this year, discounts of up to 70 percent are available on a wide range of items.
"Last year, we were not as robust as we were this year," says Mark Murrell, founder and CEO of GetMaineLobster.com. "We have more offerings and packages that are popular to our customers, and we provide greater discounts on those packages. In a nutshell, instead of offering items just because we know they will sell anyway, we worked very hard to use what we learned from last year to create a more appealing suite of offers for the customers to choose from."
In addition to the improved Black Friday discounts, GetMaineLobster.com recently introduced Buy One, Get One specials on live Maine lobsters, Maine lobster tails, a surf-and-turf dinner and gift certificates. All specials are designed to appeal to gift givers and many provide unique options for holiday meals and appetizers, and shipping is included.
To learn more about GetMaineLobster.com, browse its wide range of seafood offerings, and to access lobster recipes or view current specials, visit GetMaineLobster.com or call (866) 562-4817. For even more lobster news and recipes go to JustAddLobster.com.
About GetMaineLobster.com
GetMaineLobster.com, a division of Black Point Seafood and Black Point Gourmet, hand-selects the finest Maine lobster, seafood and beef products for convenient distribution throughout the United States. Their passion is to make fresh, quality seafood readily available to customers across the country, which is why they buy from only the most trusted, well-established suppliers to ensure that they receive the finest products available.
GetMaineLobster.com was selected out of the more than four million small American businesses served by Chase bank to represent its new Platinum Business Checking product for its 2013 national advertising campaign.