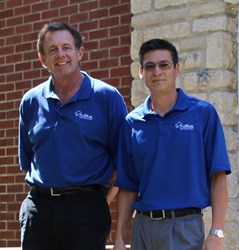 Delaware, OH (PRWEB) November 22, 2013
TruBlue of Central Ohio is excited to announce that the company has expanded its territory to better serve more Ohio residents.
With one phone call TruBlue can provide Total House Care including household repairs and maintenance, maid services, seasonal work, home improvements, emergency repairs and more for residential and commercial property owners as well as realtors. TruBlue of Central Ohio is especially excited about working with busy adults.
"Busy adults – or grown children caring for their older parents – just don't always have the time to attend to all their own household needs. That's where we come in. Busy families use our services to take care of their property so they can experience a 'carefree' weekend without worrying about the hassles of home repairs, cleaning and general maintenance. As one customer put it, 'A weekend is a terrible thing to waste cleaning gutters and installing ceiling fans. I want to take my wife and kids and go live a little,'" company President Ziebel said.
Ziebel, together with Ed Oliver own the company and have a long history of working together dating back to when Ziebel started a computer products company in 1983 and hired Oliver as his operations manager. After spending time in New Orleans, Ziebel recently moved back to Ohio to be closer to his family – and to team up with Oliver again to open TruBlue.
"Since opening TruBlue of Central Ohio, we have been almost overwhelmed with the demand from Central Ohio residents, especially for our 'handyman' services. Our people are bonded, insured and must pass a background check, so you know you are getting quality workers. I am in the field every day to make sure that the quality of work is up to our standards and, more importantly, to the customers' standards," Vice President Oliver said.
Ziebel added: "All you have to do is pick up the phone and we can assist you with all of your household maintenance needs – from top-notch cleaning services to household repairs, even yard work, all with one call!"
While TruBlue is a perfect fit for busy adults looking for assistance with their own homes, it's also a great option for those caring for their older parents, as well as real estate sales professionals looking to get homes ready for sale and closing.
"Many of our customers want mom and dad to stay in their homes, but cannot help with cleaning and household repairs due to time constraints or geographical issues. We can most certainly help these folks take care of their parents' home care needs so they can continue to enjoy hassle-free living in their home," Ziebel said.
"We've also gotten some great business from Central Ohio Realtors who need some help cleaning or making repairs to a house they're trying to sell or close on. We understand what that community is looking for and can definitely fill the need, especially in a 'request to remedy' situation," he added.
Working with TruBlue also means you don't have to tackle unsafe tasks – like climbing on the roof to clean the gutters. And with TruBlue's customized services, clients only pay for the services they choose.
"TruBlue provides great, needed services and our company is reliable and trustworthy. We're looking forward to serving the community in this new capacity," Ziebel said.
When asked why this rapid expansion was necessary, TruBlue Corporate's Chief Operating Officer Brian Peters replied "People often have so many choices when it comes to the service and upkeep of their property. With those come multiple vendors, invoices, contracts and headaches in managing so many providers. TruBlue's unique position as the leading concierge, facilitating TOTAL house care, eliminates those headaches for our clients. Simply put, we manage everything for them through our blend of service packages and industry expertise. As such, our clients genuinely appreciate us as Tru and trusted partners. The Columbus area has flooded our brand with interest and the expansion was critical to accommodate that need."
"I am proud of the brands success across the country and I remain exceedingly confident that Mr. Ziebel and Mr. Oliver's passion for their services and clients will serve the Columbus are far beyond their expectations!" Peters said.
TruBlue of Central Ohio serves Delaware, Dublin, Powell, Lewis Center, Worthington, Galena, Westerville, Upper Arlington, New Albany, Hilliard, Columbus, Gahanna, Bexley and the surrounding areas. To learn more about what TruBlue can do for you, call Oliver and Ziebel at 614-360-1302, email tziebel(at)trubluehousecare(dot)com or visit http://www.trubluecentralohio.com.