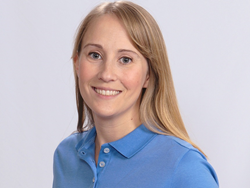 I enjoy working with farmers, particularly helping them enhance their operations and reduce their risk through the use of crop insurance. I look forward to the opportunities that working with Farm Credit will bring."
Westminster, MD (PRWEB) November 25, 2013
MidAtlantic Farm Credit recently hired Rachel Melvin as a crop insurance specialist. Melvin will be based out of the organization's office in Denton, Maryland. "We are very pleased to have Rachel join us here at Farm Credit, where she will be another valuable asset to our team," says Kathi Levan, crop insurance manager with MidAtlantic Farm Credit.
In her new role, Melvin will work closely with customers to help them identify risks and prepare for the potential impact they may face when their crops are damaged by weather or other unpredictable circumstances. "Growing up in Maryland, surrounded by agriculture, has instilled in me a passion and commitment to the future of Maryland agriculture," says Melvin. "I enjoy working with farmers, particularly helping them enhance their operations and reduce their risk through the use of crop insurance. I look forward to the opportunities that working with Farm Credit will bring."
Prior to joining MidAtlantic Farm Credit, Melvin worked for the Maryland Department of Agriculture as the Executive Secretary for the Maryland Agricultural Commission. She has also worked at the University of Maryland Extension as a Faculty Education Assistant in the Horticulture department and with Chesapeake Veterinary Surgical Specialists as a Veterinary Technician. Melvin earned her Bachelors of Science degree in Agriculture and Natural Resources with a major in Poultry Science and minor in Environmental Science from Delaware State University. She also holds a Master's degree in Environmental Science from Wesley College.
About MidAtlantic Farm Credit
MidAtlantic Farm Credit is an agricultural lending cooperative owned by its member-borrowers. It provides farm loans for land, equipment, livestock and production; crop insurance; and rural home mortgages. The co-op has over 10,400 members and approximately $2.1 billion in loans outstanding. MidAtlantic has branches serving Delaware, Maryland, Pennsylvania, Virginia and West Virginia. It is part of the national Farm Credit System, a network of financial cooperatives established in 1916 to provide a dependable source of credit to farmers and rural America.