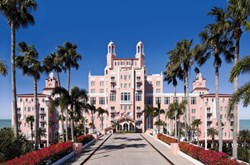 St. Pete Beach, FL (PRWEB) November 23, 2013
In 1928, developer Thomas Rowe fulfilled his dream, and that of travelers throughout the U.S., and abroad when the Don CeSar first opened its doors to guests and put St. Petersburg, FL on the map as one of the most sought after vacation destinations for the rich and famous. What many people today are not aware of, is that in the early 1970's The Don CeSar, then turned VA convalescent center for the battle-fatigued WW II airman, was about to be demolished. Its beauty, and all the history and memories associated with it, would be turned into rubble.
If it wasn't for a group of passionate local residents, including June Hurley Young, whose article titled "Pink Elephant or Sleeping Beauty?" was published on Valentine's Day in 1971, did the tides of the future of The Don Cesar begin to change. It was that story, coupled with the countless efforts of many citizens, community leaders and State and Federal government officials which eventually halted the demolition of The Don and transferred the ownership from the government to William Bowman, Jr. in March 1972.
It appeared that Thomas Rowe's dream would be kept alive and have another chance to become a shining beacon of Florida West Coast hospitality, and all the prominence that would follow. On November 24, 1973, the Don CeSar re-opened with all the pomp and circumstance of its original opening in 1928.
In 2003, Loews Hotels & Resorts assumed management of The Don CeSar Hotel and completed a $20 million enhancement project which included a revitalized lobby, a grand makeover of guest rooms including adding flat screen TV's, iPod docking stations, high-speed wireless Internet, Keurig coffee makers and completely renovated bathrooms, as well as a continued commitment to enhancing guest services.
The resort unveiled a three-story, 11,000 square-foot spa and salon in March 2008. The $11 million Spa Oceana features 16 treatment rooms, many of which offer sensational views of the beach, a rooftop terrace overlooking the Gulf, deluxe couples rooms with oversized soaking tubs and suite areas for private parties.
In early 2011, the Loews Don CeSar Hotel began another phase of renovation with the new look and concept of the signature Maritana Grille restaurant, refurbished meeting and function space, the new Sea Porch restaurant, Lobby Bar and more guestroom upgrades. This project was completed in 2012 with more, yet to be announced, enhancements planned for 2014.
The Loews Don CeSar Hotel continues to be synonymous with the quality of service and high level of first rate amenities that Thomas Rowe envisioned when he built the hotel in 1928.
As you enter this historic, iconic oceanfront hotel, guests are greeted with a plaque near the front desk quoting The Don's creator and founder Thomas C. Rowe - "Come all ye who seek health and rest for here, they are abundant."
Reading that quote and visiting the grande dame of St. Pete Beach first hand is an experience like stepping back into the great Gatsby era of the 1920's when the hotel was built. It's about opulence, quality service, and creating an environment that is supremely comfortable.
The Loews Don CeSar is more than just another hotel on a beach, it's the hotel on the beach. A place where memories are created and where guests feel special. There is a connection to the community that is felt, not only by the decor and look of the property, but by the genuine caring and knowledge of the staff.
A Connection to the Community
When Loews Hotels & Resorts assumed the management contract for the legendary property in 2003, they brought with it a style that has made Loews Hotels one of the top hospitality companies in the U.S. and Canada. Their promise to guests and the communities they serve is to stay relevant to changing times and places, providing an experience that is authentically local and genuinely delivered, all so their guests can relax, explore and flourish. That's what guests at Loews Don Cesar come to experience today.
It's imperative that Team Members at Loews Don CeSar become "Good Neighbors" with the community. And, in doing so, the hotel has been successful is partnering with a variety of organizations including the Ronald McDonald House and All Children's Hospital, DonorsChoose.org, The Red Cross, Second Harvest Food Bank, Pinellas County Education Foundation, St. Pete Sea Turtles, Paws for Patriots, New Covenant Church, and the local Chambers of Commerce and Convention & Visitors Bureau.
Whatever Thomas Rowe's vision was when he conceived The Don CeSar in the early 20's it has certainly become a treasure of the Tampa Bay and St. Pete communities. Listed on the National
Register of Historic Places, the Loews Don CeSar Hotel continues to charm discriminating guests, such as Elton John and Beyoncé Knowles, with gracious service preserved from the Great Gatsby era of pampering.
For more information on the Loews Don CeSar Hotel and its many amenities, vacation packages and promotional offers visit http://www.loewshotels.com/doncesar. You can also follow us on social media channels like Facebook and Twitter. There is always something special to be found at The Don, and you will always leave with memories that will last a lifetime. Memories that are genuinely authentic, uniquely local and outright fun.
---
MEDIA NOTE: Media interested in experiencing and communicating about our Loews Don CeSar Hotel, and the St. Pete, FL destination, should contact Jeff Abbaticchio, Director of Public Relations, to inquire about potential individual press visits. Email Jeff at Jabbaticchio (at) LoewsHotels (dot) com.
About Loews Don CeSar Hotel
Once a playground for distinguished celebrities such as Clarence Darrow and F. Scott Fitzgerald, the Loews Don CeSar Hotel continues to charm and impress guests today with service preserved from the Great Gatsby era of pampering. Renovated guestrooms, refreshed public spaces, sugar-sand beaches, Spa Oceana, poolside activities and award-winning dining await visitors who return season after season. Blending European grandeur, seaside elegance and sweet sunsets with the enchantment of yesteryear, the romantic legend exemplifies the grandness of America's traditional beach resorts and is the only historic hotel on Florida's Gulf Coast. For more information, visit http://www.loewshotels.com/doncesar or call 727-360-1881.
Loews Hotels & Resorts
Headquartered in New York City, Loews Hotels & Resorts owns and/or operates 19 hotels and resorts in the U.S. and Canada including the newly acquired Loews Madison Hotel located in the heart of Washington at the epicenter of legendary D.C. landmarks and the Loews Boston Hotel, one of Boston's preeminent historic buildings, situated on the corner of Berkeley and Stuart Streets. Located in major city centers and resort destinations in North America from coast to coast, the Loews portfolio features one-of-a-kind properties that go beyond Four Diamond standards to delight guests with a supremely comfortable, uniquely local and vibrant travel experience. For reservations or more information about Loews Hotels & Resorts, call 1-800-23-LOEWS or visit: http://www.loewshotels.com.
Like Loews Hotels & Resorts on Facebook: http://www.facebook.com/LoewsHotels
Follow Loews Hotels & Resorts on Twitter: http://www.twitter.com/loews_hotels
Watch Loews Hotels & Resorts on YouTube: http://www.youtube.com/LoewsHotels