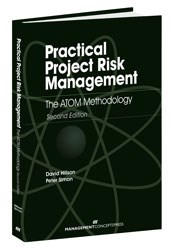 Tysons Corner, VA (PRWEB) November 26, 2013
Management Concepts Press is proud to announce that Practical Project Risk Management: The ATOM Methodology, Second Edition, by David Hillson and Peter Simon, received the top honor for a project management book from the Project Management Institute (PMI).
PMI, the world's largest association for project managers, presented the David I. Cleland Project Management Literature Award at the World Congress last month in New Orleans, Louisiana.
The PMI David I. Cleland Project Management Literature Award recognizes authors for advancing the project management knowledge, practices, procedures, concepts, or techniques that demonstrate the value of using project management. The publication may be on historical, current, or future endeavors.
About the Authors
Dr. David Hillson is well-known for his talents in risk management, working as an international risk consultant in over 40 countries and across the construction, telecommunications, pharmaceutical, transport, energy, information technology, defense, and government industries. Known globally as The Risk Doctor, Dr. Hillson has more than 25 years of risk management experience. He has written nine books on the topic, in addition to contributing to several others and authoring many papers, articles, and briefings. Dr. Hillson was elected a PMI Fellow in 2010. He received the PMI Eric Jenett PM Excellence Award in 2011 and the PMI Distinguished Contribution Award in 2002.
Mr. Peter Simon is a Director of Lucidus Consulting Ltd. He has more than 30 years of experience as a project and program management consultant and practitioner across all industries and business sectors. He is a Visiting Fellow at Cranfield School of Management and an adjunct professor at ESCP Business School—London.
Management Concepts Press is a division of Management Concepts, Inc., an integrated training, consulting, and publishing company dedicated to the mind at work—from entry level to executive leaders.
For more information contact Mary Cowell, Publisher, Management Concepts Press, at mcowell (at) managementconcepts (dot) com or (703) 270-4125.
8230 Leesburg Pike • Suite 800 • Vienna, VA 22182 • 703.790.9595 • Fax: 703.790.1371 • http://www.managementconcepts.com