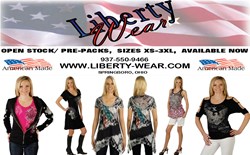 Although we are still growing as a company, we can still help the growth of other companies.
Dayton, Ohio (PRWEB) November 25, 2013
Liberty Wear, known famously for their own American Made apparel line is taking another stand on helping and promoting local businesses to thrive through the economical changes.
Liberty Wear has announced their participation in reaching out to the public and engage the public in supporting their local businesses.
Liberty Wear has dedicated their website in fundamentally educating the public. Liberty Wear is proud to sell American Made Apparel and is proud of all the companies that has taken the pledge to sell American Made and Liberty Wear's Brand.
Liberty Wear has placed their retailers on their website to promote public awareness in finding stores in their area.