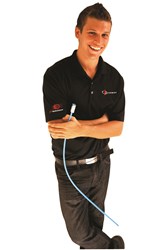 "Frankly, we were floored at how fast contractors could terminate Z-MAX. Not one video entry came in slower than our original 60-second estimate. In fact, the best times were well under half of that."
(PRWEB) November 22, 2013
Siemon, a leading global network infrastructure specialist, today announced the US winners of its recent Z-MAX Termination Challenge. This online contest challenged cabling contractors to test their skills against fellow cabling pros to see who could perform the fastest termination using Siemon's innovative Z-MAX RJ-45 outlet. The contest asked contractors to send Siemon a video of their fastest Z-MAX termination and offered prizes to the top performers.
Siemon's Manager of Channel Development, Andy Reynolds, described the history behind the Z-MAX Termination Challenge. "When we first launched Z-MAX, we were pretty conservative in our termination time estimates, suggesting it could be consistently performed in about 60 seconds," Reynolds explained. "But since then, contractors in the field have regularly reported significantly faster results." To validate these reports and find out just how fast Z-MAX could be in the hands of cabling installation pros, Siemon developed the Z-MAX Termination Challenge.
According to Reynolds, the video entries more than surpassed expectations. "Frankly, we were floored at how fast they all were. Not one entry came in slower than our original 60-second estimate," he explained. "In fact, the best times were well under half of that."
Siemon extends its thanks to all Z-MAX Termination Challenge entrants and offers congratulations to the winners:
1st Place - $1000 - 23.5 Seconds - Curtis Shawn Repp of Envision Technologies, Lenexa KS.
Curtis set a new world record with a blistering time of just 23.5 seconds, beating the previous record by nearly seven seconds.
2nd Place - $500 - 28.9 Seconds - Alberto Luna of Total Network Consulting, Snellville, GA
3rd Place - $250 - 32 Seconds - Taylor Gray of I2 Solutions, Naples, FL
The actual entry videos for the winners are available at http://www.siemon.com/zmaxchallenge/winners.
To find out more about Siemon's innovative Z-MAX cabling solution, which includes full end-to-end systems in 10Gb/s Category 6A shielded and UTP configurations as well as category 6 UTP, visit: http://www.siemon.com.
Follow Siemon on Twitter: http://twitter.com/siemoncabling/.
Join Siemon on Facebook: http://www.siemon.com/go/facebook.