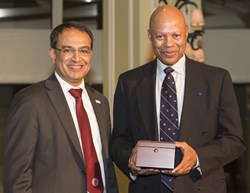 This award is one which I will cherish because it's about more than just my professional accomplishments; it's about my work in the community, with kids, which I value more than anything.
Niskayuna, NY (PRWEB) November 22, 2013
GE Global Research, the technology development arm of the General Electric Company (NYSE: GE), is proud to announce that Dr. Marshall Jones, a world renowned expert on laser manufacturing, is a recipient of the 2013 University of Massachusetts (UMass) Amherst "Salute to Service" award. Jones was presented with the award Wednesday night during a ceremony in Boston.
Jones joined GE Global Research in 1974 immediately after graduating from UMass with a Ph.D. in mechanical engineering. Since that time he has earned 54 U.S. patents and 32 foreign patents; authored or co¬authored over 45 publications; and presented numerous talks at national and international technical conferences. Jones is considered one of the world's foremost authorities in the field of laser material processing and has received numerous accolades for his research and community involvement.
The UMass "Salute to Service" award honors those who exemplify good citizenship through their exceptional achievements. Jones is an active mentor for local youth and serves on numerous community boards. He has presented to students as young as kindergarten, has mentored students who have been in graduate school, and has been a featured speaker at youth-focused programs for all ages in between. In 1999, he was the subject of a children's book entitled "Never Give Up, The Marshall Jones Story".
"I am humbled by this prestigious honor," said Jones, a Principal Engineer at GE Global Research. "This award is one which I will cherish because it's about more than just my professional accomplishments; it's about my work in the community, with kids, which I value more than anything."
"As someone who struggled with education early in my life, I understand how challenging it can be," Jones added. "So, one of my goals has always been to inspire youth to strive to achieve, no matter what it takes."
During his nearly 40 year career at GE, Jones has been the recipient of numerous awards in the fields of mechanical engineering, fiber optics, laser technology, education, research, and community service. He has also received many previous honors from UMass, including the 1986 Distinguished Engineering Alumni Award, the 1987 Chancellor's Medal, the 1995 Distinguished Achievement Award for Professional and Community Service, and the 2001 Alumnus of the Year award from the College of Engineering.
"I congratulate Marshall on this extraordinary accomplishment; the recognition is certainly well-deserved," said Christine Furstoss, Technical Director for Manufacturing and Materials Technologies at GE Global Research. "Marshall is not only a valued member of my team and a trusted advisor on various engineering matters, he's also a dedicated community member. He cares about the well-being of kids and pushes them to dream big."
Jones has also served as a member of the National Science Foundation Advisory Committee and is a member of the National Academy of Engineering, the African Scientific Institute and Phi Theta Kappa; and is a Fellow of the American Society of Mechanical Engineers and the Laser Institute of America. He was also selected the 2002 Coolidge Fellow, the top technical award at GE Global Research Center.
About GE Global Research
GE Global Research is the hub of technology development for all of GE's businesses. Our scientists and engineers redefine what's possible, drive growth for our businesses, and find answers to some of the world's toughest problems.
We innovate 24 hours a day, with sites in Niskayuna, New York; San Ramon, California; Bangalore, India; Shanghai, China; Munich, Germany; and Rio de Janeiro, Brazil.
Visit GE Global Research on the web at http://www.ge.com/research. Connect with our technologists at http://edisonsdesk.com and http://twitter.com/geresearch.
###