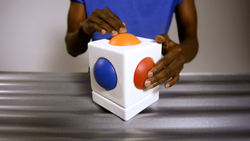 The genius of the Skoog is that it provides a powerful tool for music creation, whilst also being intuitive and easy to use.
Edinburgh, UK (PRWEB UK) 25 November 2013
Skoogmusic, the music technology innovator, today announced that its flagship musical instrument is now available online at the Apple Store (http://store.apple.com/uk) across Europe and the Middle East.
The Skoog is a groundbreaking electronic instrument that provides all musicians with a new way to play music, including those with disabilities. The soft, squeezable Skoog and its accompanying software create a level playing field for interaction and integration and have been widely adopted, both as an accessible instrument in schools and as a tool for professional musicians worldwide.
"We are delighted that Apple has decided to broaden its musical product ecosystem with an accessible product like the Skoog, making it available online in 21 countries across Europe," said Dr. Benjamin Schogler, Creative Director of Skoogmusic and co- inventor of the Skoog. "Our goal with the Skoog has always been to make music-making as accessible as possible, and through the Apple Store we are now able to bring the Skoog to many more people across the world. We want to help everyone to free the musician inside!"
Roughly hand-sized, the Skoog is a tactile cube that simply plugs into a home computer or laptop via a USB connection. By touching, pressing, squashing, twisting or tapping the Skoog's five colour-coded sides, users can play a wide range of physically modelled instruments, MIDI, or sounds they have recorded themselves. With the Skoog's accompanying software, users can easily create unique musical compositions using its sampling, looping and layering features.
The Skoog's technology mimics the behaviour of conventional musical instruments and creates a direct correlation between the gestures a player makes and the sound that is produced. Playing sensitivity can be adjusted to respond to an individual user's movements, delivering a powerful and adaptable platform for creating and controlling sound.
"The genius of the Skoog is that it provides a powerful tool for music creation, whilst also being intuitive and easy to use," said renowned British composer Nigel Osborne, MBE. "The Skoog is genuinely expressive, providing you with the same control over musical sounds as a flautist has of a flute or a violinist has over a violin."
In addition to being a standalone instrument in its own right, the Skoog links easily with Apple's music software products, GarageBand and Logic, as well as other compatible applications, providing budding and professional musicians alike with a new controller to inspire their creativity.
"I have seen the potential of the Skoog to benefit students from every level of musical ability," said Greg Alchin, an Apple Accessibility Ambassador and Distinguished Educator. "The simplicity of the product makes it equally suitable for advanced musicians or beginners and from able-bodied players to those with mental or physical disabilities."
About Skoogmusic
Skoogmusic Ltd. is a developer of music technology products. Founded in 2009 with a goal of "music made easy", the company's flagship product is the Skoog, a ground-breaking musical instrument designed to empower anyone to play music, regardless of ability. To learn more, visit http://www.skoogmusic.com.