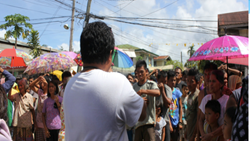 About 11 million people have been affected and many left homeless. 10,000 or more reported dead.
Manila, Philippines (PRWEB) November 22, 2013
It was only weeks ago when Bohol, Philippines was struck by the deadliest earthquake in 23 years. The energy of the quake released was equivalent to 32 Hiroshima bombs. According to official reports by the National Disaster Risk Reduction and Management Council (NDRRMC), 222 were reported dead, 8 were missing, and 976 people were injured. In all, more than 73,000 structures were damaged, of which more than 14,500 were totally destroyed.
Just 3 weeks later Super Typhoon Haiyan (Yolanda) struck the region. The cyclone caused catastrophic destruction in the central Philippines, particularly on Samar Island and Leyte. According to UN officials, about 11 million people have been affected and many have been left homeless and more than 10,000 people reported dead across the Philippines.
In light of these calamities, Outbounders.com has been organizing a relief effort on behalf of the thousands of customers that use their service. One mission has already been dispatched to Earthquake rocked region of Bohol and a second is set to go out to the regions devastated by the Typhoon. You can see details of that mission here: http://outbounders.com/outreach_campaign_bohol
If you would like to be part of their next relief effort in Samar Island and Leyte, you can simply make a donation on their web site: http://outbounders.com/donate_haiyan_victims , 100% of all donations will go towards mission of helping the maximum number of people affected by the storms. They are covering the cost of transaction fees and administration. Many of their team are volunteering to help distribute food, bandages and other much needed supplies.
# Outbounders.com is an online marketplace that connects employers looking to hire sales people working from home. With over 2,000 clients and 1,600 reps available for hire they are the largest marketplace for outbound marketing. #