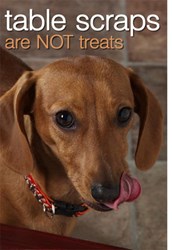 Damariscotta, ME (PRWEB) November 22, 2013
As the holidays approach it is that time again when everyone enjoys eating delicious foods. As pet owners enjoy their food they may see pets watching longingly. Since it is a special occasion and pet owners love to see their pets happy, owners think, "a little won't hurt." Later, pet owners may be awakened in the middle of the night to a vomiting pet or to find their pet lethargic and not wanting to eat in the morning.
Although many dietary indiscretions work themselves out, there are those that develop into acute pancreatitis and need immediate medical attention. Acute pancreatitis is the sudden inflammation of the pancreas. Pancreatitis is a serious condition that causes pain, vomiting, depression and occasionally shock and death. The pancreas has two main functions, one is to produce insulin and glucagon which regulate blood sugar levels; the other is to produce enzymes that are essential for digestion of proteins, triglycerides and complex carbohydrates.
Veterinarians commonly see acute pancreatitis around the holidays, as pets are fed table scraps. Ingesting fatty food or too much food can cause the pancreas to become inflamed. Once this happens the pancreas stops functioning, which then causes pain and often vomiting. Signs of pancreatitis include lethargy, loss of appetite, dehydration, weakness, low body temperature, vomiting, loose stools and abdominal pain.
As little as one piece of meat or fat can stimulate acute pancreatitis in some pets, especially if the pancreas has been previously irritated. What is considered a large amount for one pet is different for others, depending on the size, age and health of the pet. If pet owners must feed leftovers, do not give fatty foods such as gravy, butter, baked goods and fried foods. Toy breed dogs are particularly susceptible to pancreatitis although a larger dog with digestive issues may be just as susceptible.
Some other foods that can cause toxic reactions or gastrointestinal upset are: chocolate, raisins, grapes, nuts, milk or cream, mold covered foods, onions, garlic or any other food containing the previously mentioned foods. It is best not to feed table scraps at all. Also, remember that sugar free products that use Xylitol as the sweetener are extremely toxic to pets. Even one stick of sugar free, Xylitol containing, gum can be fatal to a medium sized dog if consequences are left untreated.
Call the veterinarian if a pet has any unusual behavior, vomiting, diarrhea or lethargy. To reach the pet poison helpline call: 800-213-6680. Damariscotta Veterinary Clinic wishes everyone a safe and happy holiday!
<br>About the company:<br>
Damariscotta Veterinary Clinic is a full-service veterinarian providing medical, surgical and dental care in a compassionate, caring manner with a personal touch. Damariscotta Veterinary Clinic is a staple in the mid-coast Maine area and has been proudly serving residents of Damariscotta for over 50 years. For more information, visit http://www.myvetonline.com/damariscottavet/general-information.html.