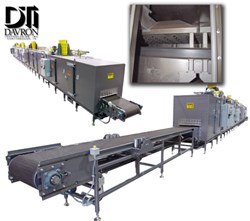 Chattanooga, TN (PRWEB) November 26, 2013
Davron Technologies, Inc. engineered an energy-efficient gas-powered continuous conveyor oven that is over 100 feet long for a client in the snack food industry. Designed specifically for mass cookie baking, the DTI-1011 removes approximately 30 pounds of moisture from 135 pounds of food products per hour. Energy-conserving features include four full modulating natural gas burners, which maintain temperature in four distinct zones, as well as controls for regulating the oven's circulation and exhaust air volumes.
The DTI-1011's conveyor system moves cookies or other food products through the four independent heated zones within the oven on a carbon steel wire mesh belt. The four zones each feature a full modulating natural gas burner, a circulation fan, and an exhaust fan with dampers so that the volume of the exhaust can be adjusted for each zone, which can be set to temperatures between 250ᴼ and 350ᴼF.
The chamber is specifically designed to provide a combination of vertical up and vertical down airflow, allowing heated air to be impinged on both the tops and bottoms of any food products moving through the system. Access doors are distributed along the length of the oven chamber to facilitate easy maintenance and cleaning.
The DTI-1011's conveyor can be adjusted to move material at a rate of between 6 and 9 feet per minute, allowing each product to stay in the heated chamber for 10 to 15 minutes at a time. Variable Frequency Drives (VFDs) allow belt speed to be changed as needed. An automatic belt tracking system monitors the conveyor during operation, triggering an automatic pneumatic tension system to compensate for any thermal expansion of the conveyor so that proper belt tension can be maintained consistently.
The DTI-1011's interior measures 2'0" wide x 100'4" long x 0'6" high. The inner chamber features 16-gauge aluminized steel backed by four inches of eight-pound-density mineral wool insulation. A structural steel frame supports it within an exterior shell that is made out of 16-gauge carbon steel finished with high-temperature paint.
Davron designed the DTI-1011 continuous conveyor oven according to detailed specifications provided by the client, manufactured all components in house, programmed all systems, performed all acceptance testing with the customer at Davron headquarters, prepared the oven for shipment, and supervised the installation of the continuous conveyor oven at the customer's facility.
Visit http://www.davrontech.com for more information about Davron's continuous conveyor oven capabilities. Or, if you'd like to discuss your own industrial oven project, please call Davron's Vice President, Jimmy Evans, at (888) 263-2673, or fill out Davron's online spec submission form.
About Davron Technologies, Inc.
Davron Technologies, Inc. custom fabricates industrial ovens, providing turnkey design and system integration services to develop thermal processing solutions. Davron is a total industrial oven manufacturer, creating custom industrial ovens and precision process equipment for every industry that requires thermal processing. Each Davron industrial oven is custom built according to customers' unique specifications. As the Provider of Industrial Oven Solutions, Davron offers one of the largest selections of in-house and on-site industrial oven services in the world.