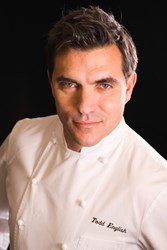 This is a tremendous opportunity for me to get to work with some great chefs, talk to local vintners, and reunite with some of my fellow CIA alumni.
Napa Valley, California (PRWEB) November 22, 2013
Chef Todd English will make his way to the lush vineyards of Napa Valley this weekend for his inaugural appearance at the third annual Flavor! Napa Valley being held November 20-24, 2013.
The festival, a "Celebration of Wine, Food & Fun," is an annual collaboration of the region's top vintners along with the master chefs and graduates of the Culinary Institute of America, the festival's beneficiary. English, a CIA alumni, will prepare a one-course meal during Thursday's welcome dinner at the beautiful Silverado Resort & Spa. The dinner will be hosted by Silverado's Executive Chef, Jeffrey Jake and will feature the wines of Grgich Hills Estate, Cakebread Cellars and Mondavi Winery.
On Saturday, the acclaimed chef, restaurateur, author and entrepreneur will take part in an interactive lunch where he will entice gourmet-lovers and guests with a three-course meal of Scallops with Chestnuts and Oranges; Pappardelle, Slow Cooked Rabbit Ragu, Foraged Mushrooms and Parmigiano-Reggiano; and Spice Pumpkin Creme Brulee.
"I'm really excited to be taking part and I can't think of a more wonderful excuse to make it out to this breathtaking region," says English. "This is such a great chance for folks to learn all about the wonderful unions between wine and food, and it's also a tremendous opportunity for me to get to work with some great chefs, talk to local vintners, and reunite with some of my fellow CIA alumni."
Flavor! Napa Valley unites the region's farm-to-table fine cuisine with the its world-class wines. This year, the festival is adding new chefs, sommeliers, seminars and hands-on workshops. Net proceeds from the festival support programs and scholarships at The Culinary Institute of America's Greystone Campus in St. Helena, California.
The Interactive Lunch with Todd English will take place Saturday, November 23 from 11am to 1:30pm at The Culinary Institute of America at Greystone/Ventura. Guests will be given aprons to cook along with English and student chefs from CIA. The demonstration will be followed by a savory lunch. Tickets for the interactive lunch are $135. For further information on Flavor! Napa Valley 2013, or to purchase tickets, please visit flavornapavalley.com.
About Todd English:
Todd English is a renowned chef, restaurateur, author, entrepreneur, and television personality based in Boston, Massachusetts and New York City. He is a four-time James Beard Award winner and inductee into the James Beard Foundation's "Who's Who in Food and Beverage in America." He is the CEO of Todd English Enterprises which owns, manages and licenses over 20 restaurants worldwide including Olives (New York, Las Vegas, Mexico City, Bahamas), Todd English Food Hall (New York, Manila 2014), Todd English P.U.B. (Las Vegas, Birmingham), Figs (Boston, Charlestown, Kuwait, Nantucket and Macy's West Palm Beach), BlueZoo (Orlando), Ça Va (New York), Todd English Restaurant (Queen Mary 2), Tuscany (Mohegan Casino) and Isabelle's CurlyCakes (Boston). He has two sons and one daughter. For more information on chef Todd English and his restaurants, please visit his website at http://www.toddenglish.com. Or, follow him on Facebook – http://www.facebook.com/ChefToddEnglish and on Twitter- @ChefToddEnglish.