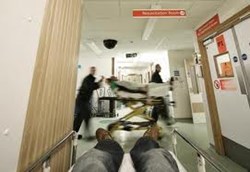 Hospital wards are increasingly under-staffed, causing nurses to be over-worked; consequently, mistakes can be made.
Bolton, UK (PRWEB UK) 28 November 2013
As reported by the BBC, a series of measures are to be put in place, encouraging the NHS to undergo a "profound transformation." (1) Recommended nurse-to-patient ratios will be introduced, in the hopes that care will improve, making the NHS the "safest in the world."
Details will be published, highlighting whether or not there are enough nurses on hospital wards; numbers which will then be published on a new national safety website. While there will be no national staffing standard in place, the numbers published will be compared to recommended nurse-to-patient ratios for different types of ward (1).
Highlighted during the recent Francis enquiry, staffing levels have been a source of debate, and it is hoped that highlighting breaches in the recommended levels will lead to improvements in patient care.
Discussing the new measures, Labour's shadow health secretary, Andy Burnham (1):
"Too many hospitals in England do not have safe staffing levels. We have repeatedly warned the government about nurse numbers falling to dangerous levels. This new focus on recruitment is overdue but it shouldn't have taken this long and it won't be enough to repair the damage of three years of falling nurse numbers."
It is believed that the new national safety website will be running by June, publishing the staffing levels of each ward, each day, to be updated monthly (1). According to the BBC, It is still to be decided what the recommended staffing levels will be, as numerous factors need to be taken into account. Levels will depend on the numbers of patients on the ward, whether it is a day or night shift, and the care needs of the patients on the ward; for example, the ratios will vary greatly between geriatric, surgical, and intensive care wards.
Considering the new measures, Asons Executive, Suzanne Yates:
"These measures have the potential to significantly improve patient care. Hospital wards are increasingly under-staffed, causing nurses to be over-worked; consequently, mistakes can be made. Ensuring nurse-to-patient ratios are met could help to alleviate such issues.
"At Asons Solicitors, we see delayed treatment claims, where symptoms worsen due to delayed patient care. For example, women suffering from ectopic pregnancies require prompt medical attention; should this be delayed, because an emergency ward is understaffed, they could potentially suffer a rupture within their fallopian tubes. Ruptured ectopic pregnancies have long term implications, with the potential to damage future health and fertility. An Ectopic Pregnancy misdiagnosis, or a delayed treatment, can be sufficient grounds to make a medical negligence claim.
"These new measures have the potential to improve patient care, and it will be interesting to see whether or not hospitals will take them on board."
If someone has suffered, then they may be able to make a medical negligence claim for compensation. Taking action can prevent the same situation from reoccurring, helping others to avoid injury in future.
Asons Solicitors deal with NHS compensation and ectopic pregnancy claims on a regular basis, you can contact them on: 0844 850 1062, or you can fill out their medical claim form at http://www.asons.co.uk.
-Sources-
(1) BBC News, 'Government publishes 'blueprint for trustworthy' NHS.' (19/11/2013) bbc.co.uk/news/health-25005669
About Asons Solicitors:
Asons Solicitors is a Bolton-based law practice that specialises in personal injury and industrial disease claims. Founded by brothers Imran Akram and Kamran Akram, Asons Solicitors has developed to become a young and dynamic law firm that delivers practical solutions to clients in times of difficulty. Their continued focus on their staff has seen them awarded with the Investors in People "Gold Award"; which is reflected in the professional and personable approach they take in working with clients. They strive to grow and to develop, and their supportiveness and attention to detail ensures that their clients use them time and again.
For further information contact:
Email: info(at)asons(dot)co(dot)uk
Website: http://www.asons.co.uk