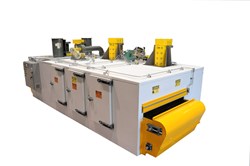 Chattanooga, TN (PRWEB) December 03, 2013
Davron Technologies, Inc. designed a unique natural-gas continuous conveyor oven that makes use of a tray-based conveyance system to save energy, time and money. Created to cure disc brake pads for an automotive client, the DTI-1144's conveyance system moves products through the system standing up in a vertical arrangement made possible by the heat-resistant trays, which accommodate eight parts apiece. Each tray is mounted on a chain that travels on oversized rollers, providing a viable alternative to the traditional conveyor belt. This alternative conveyance system replaces batch processes, thereby removing associated labor costs, shortening cure cycles, and improving energy efficiency.
The DTI-1144's tray-based conveyor system moves the brake pads through two separate temperature-controlled zones within the continuous conveyor oven: a heated chamber and a cooling zone. The heated chamber can operate at anywhere between 300ᴼ and 662ᴼF, while the cooling zone uses ambient air to take parts down to 130ᴼF in 35 minutes. The entire curing process takes roughly two hours, during which the oven can process 480 parts.
Davron developed the DTI-1144's unique vertical tray design to meet three criteria provided by the customer, which a traditional continuous conveyor oven simply couldn't meet: the requisite number of parts per hour, the temperature required to cure the brake pads, and the cure time. Based on the specifications, Davron recommended that the oven utilize the vertical tray system so that batch processing could be avoided, guaranteeing uniform heat for each part and faster curing times. The vertical orientation also had the advantage of reducing the floor space required for the oven in the workplace.
Once the vertical part orientation was approved, Davron designed the unique oven in its entirety. The complete continuous conveyor oven, including the electrical system, was manufactured in house at Davron headquarters in Chattanooga, Tenn., where acceptance testing was done with the customer present.
Visit http://www.davrontech.com for more information about Davron's continuous conveyor oven capabilities. Or, if you'd like to discuss your own industrial oven project, please call Davron's Vice President, Jimmy Evans, at (888) 263-2673, or fill out Davron's online spec submission form.
About Davron Technologies, Inc.
Davron Technologies, Inc. custom fabricates industrial ovens, providing turnkey design and system integration services to develop thermal processing solutions. Davron is a total industrial oven manufacturer, creating custom industrial ovens and precision process equipment for every industry that requires thermal processing. Each Davron industrial oven is custom built according to customers' unique specifications. As the Provider of Industrial Oven Solutions, Davron offers one of the largest selections of in-house and on-site industrial oven services in the world.