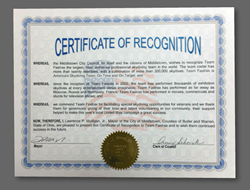 Middletown is our home, and we will always foster that sense of community.
Middletown, OH (PRWEB) November 23, 2013
On Tuesday, November 19, Mayor Larry Mulligan Jr. presented John Hart, founder of Team Fastrax, with a Certificate of Recognition for the team's community efforts. The certificate states, "…we commend Team Fastrax for facilitating special skydiving opportunities for veterans and we thank them for generously giving of their time and talent volunteering in our community; their support helped to make this year's local United Way Campaign a great success."
"We are honored to provide special opportunities to veterans. They serve and protect the freedoms that we hold dear. So, giving back to them is the least we can do," said John Hart.
According to John, more than two hundred hours of community service were performed by members of Team Fastrax. In addition, within the last year, the team traveled across the United States taking hundreds of wounded warriors skydiving. Each team member volunteered their time and talents to make this happen.
The United Way kicked off their 2013 campaign called the "Sky's the limit" at Start Skydiving and members of the team spoke and jumped in for the group in addition to donating tandems. John Hart, stated "Middletown is our home, and we will always foster that sense of community. We would also like to thank the city council for the generous certificate and for their efforts in making this city the friendly place that it is."
Team Fastrax is sponsored by Selection.com, a leading provider of criminal background checks and pre-employment screening services. They are the most ambitious professional skydiving team in the world. The team has a roster of more than twenty-nine active members, with a culmination of more than 300,000 skydives. Team Fastrax has performed exhibition skydives all over the world for audiences large and small as a patriotic display or as a product promotion.
For questions or for an interview, contact John Hart II with Team Fastrax at jhart(at)teamfastrax(dot)org 513-484-3680.