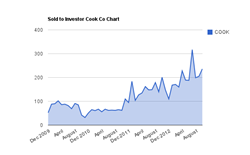 (PRWEB) November 24, 2013
October 2013 saw a 14.42 percent increase in new foreclosures entering the Chicago market, while sales at the auctions increased by 18.93 percent from September's numbers. Once again, the Chicagoland area is conflicted. The latest numbers, compiled by the Illinois Foreclosure Listing Service (ILFLS.com), indicate that the intriguing and contradictory trends seen this summer have continued into the fall. This month, the battling number of ingoing and outgoing foreclosure properties seems to have found a healthier balance than in September 2013.
After seeing little change from August to September of this year, the Chicago foreclosure landscape has become more colorful, especially when it comes to the auctions. With just a 1.98 percent increase last month, this month's almost 20 percent improvement allows for better insight into what is happening in the area. Some of the smaller counties stepped up in October and showed huge variation. Will County jumped by 46.63 percent, Lake County gained 53.66 percent and McHenry, a small county to the northwest of Chicago, saw a 66.67 percent increase. These efforts by the surrounding counties helped to offset losses in Kendall and Kane counties.
Though more sales at the auctions are a good thing, there are still a lot of new properties falling into foreclosure this month. The overall increase of 14.42 percent across the seven Chicagoland counties (Kane, Kendall, Cook, Dupage, McHenry, Will, and Lake) is another area in which October 2013 proved to hold more drastic changes than the month before. From August to September of this year, there was a mere 3.62 percent increase and, though small, this number was still enough to overtake the even more minimal number of properties sold at auction in September. In October, every county increased by over 10 percent, with the exception of Kendall County which had no change at all. The increase of new foreclosures isn't a good sign for Chicago. Most years, both the number of new foreclosures and the number of sold properties at the auctions decrease together as winter approaches, but this year is proving to me an anomaly to that trend.
The number of REO properties (or properties that did not sell at auction and reverted to a lender) for October also increased. Kane County decreased by 21.50 percent, but every other county increased, making the overall change a positive 19.11 percent for the month. Interestingly enough, Lake County was a leader in this category as well, because it increased by 49.49 percent from September to October.
October 2013 marks one of the first times that the year-over-year measuring stick has been less than positive. Though the number of new foreclosures has dropped by 30.72 percent since October 2012, the number of properties sold to investors has actually dropped by 1.41 percent since last year. Overall, it chalks up to a success because there are fewer foreclosures in general, but the low sales numbers could become a problem as Chicago enters the cold winter months of 2013.