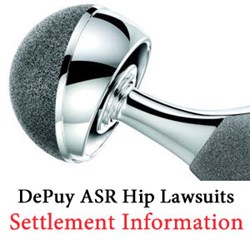 For information on this DePuy ASR Hip Settlement or if you have experienced DePuy ASR hip replacement side effects contact Wright & Schulte at www.yourlegalhelp.com, or by call 1-800-399-0795
Columbus, OH (PRWEB) November 22, 2013
Two days after its announcement, more details are becoming available regarding Johnson & Johnson's proposed DePuy ASR lawsuit settlement, Wright & Schulte LLC reports. According to documents provided by Johnson & Johnson's DePuy Orthopaedics unit, DePuy ASR lawsuit plaintiffs eligible for the settlement must have undergone revision of an ASR hip for reasons related to the recall prior to August 31, 2013. The proposed DePuy ASR settlement agreement provides a base award of $250,000 for each of these plaintiffs, which can be reduced due to certain factors, such as whether they were a smoker at the time of their revision or their prior medical history. In cases were a plaintiff underwent multiple revision surgeries, experienced extraordinary medical events associated with their revision procedure, or experiences certain extraordinary injuries in the future, they may be eligible for a supplemental award.
[usasrhipsettlement.com/Un-Secure
/Docs/Settlement_Program_Overview_Final.pd, DePuy Orthopaedics, November 19, 2013]
According to a report from The New York Times, the proposed DePuy ASR hip recall settlement, which will only be finalized if 94% of eligible plaintiffs agree to its terms, is expected to cost Johnson & Johnson and DePuy just under $2.5 billion. It will resolve around 8,000 of the DePuy ASR hip replacement lawsuits currently filed against the companies in courts around the country. Most of those claims are pending in a Depuy ASR MDL, multidistrict litigation underway in U.S. District Court, Northern District of Ohio, where the DePuy ASR lawsuit settlement was announced yesterday. (In re: DePuy Orthopaedics, Inc. ASR Hip Implant Products Liability Litigation – MDL 2197)
[ nytimes.com/2013/11/20/business/johnson
-johnson-to-offer-2-5-billion-hip-device-settlement.html, New York Times, November 20, 2013 ]
According to DePuy, other eligibility requirements for participation in the DePuy ASR lawsuit settlement include:

The plaintiff must be a U.S. citizen or legal resident of the U.S.
The plaintiff must have undergone surgery to implant an ASR XL Acetabular Hip System or ASR Hip Resurfacing System at a U.S.-based hospital or at a U.S. military hospital.
The ASR hip must have been in place at least 180 days prior to the revision surgery.
According to The New York Times, the DePuy ASR hip replacement recall was announced after it became apparent that the metal-on-metal hip implant was associated with a high rate of early failure. According to court documents, plaintiffs in DePuy ASR hip lawsuits allege that the device was defectively designed, and that DePuy and Johnson & Johnson did not provide adequate warnings of its risks. Plaintiffs further allege that microscopic metal ions released due to wear of the hip's metal components can cause metallosis, pain, swelling, chromium and cobalt poisoning, and other serious complications resulting in early failure of the hip and need for revision surgery to remove and replace the device.
To qualify for the DePuy ASR hip settlement, eligible plaintiffs must make their claim no later than April 1, 2014. Wright & Schulte LLC is offering assistance with the submission of claims to anyone who might be eligible to participate in the DePuy ASR lawsuit settlement. For more information on filing a DePuy ASR hip settlement claim, or to arrange for a free legal consultation, please visit yourlegalhelp.com, or call 1-800-399-0795.
About Wright & Schulte LLC And Qualifying for the DePuy ASR Hip Lawsuit Settlement
Wright & Schulte LLC, an experienced defective medical device firm, is dedicated to the belief that America's legal system should work for the people. Every day, the attorneys of Wright Schulte LLC stand up for the rights of people who have been injured or wronged, and fight tirelessly to ensure those rights. If you're looking for a law firm that will guarantee the aggressive and personal representation you deserve, please do not hesitate to contact Wright & Schulte LLC today. Free DePuy ASR Hip Lawsuit Settlement case evaluations are available through yourlegalhelp.com, or call 1-888-365-2602.
For further information on the DePuy ASR hip settlement visit us on our DePuy ASR Hip Information page.
Contact:
Wright Schulte LLC
"An Experience Defective Medical Device Law Firm"
1-888-365-2602