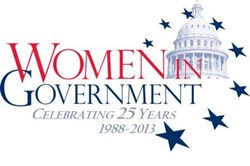 "Always relevant and timely." - Georgia State Representative Keisha Waites
Washington, DC (PRWEB) November 25, 2013
Women In Government held its Fourth Annual Healthcare Summit on Thursday, November 14 - Saturday, November 16, 2013, in Washington, DC. The three-day event covered a wide range of issues including women's health, diabetes, childhood obesity, chronic disease prevention and management, and recent innovations in healthcare, including implementation of the Affordable Healthcare Act.
Women In Government aims to educate women state legislators on issues that affect their constituency so that they can make effective policy. "Always relevant and timely. The technical information provides me with the knowledge to speak to these issues in committee," commented a legislative participant of the Summit, Georgia State Representative Keisha Waites, following the Healthcare Summit.
One example of the variety of programming included at the event was soprano Charity Tilleman-Dick, who inspired her audience with the story of her struggle with pulmonary hypertension, and wowed the group with her opera performance.
Also in attendance were eight ambitious young women from local colleges and universities taking part in the Future Women In Government program inspired by the "Teach a Girl to Lead" project sponsored by the Center for American Women and Politics at Rutgers University. The goals of the White House Council on Women and Girls Leadership and was launched by Women In Government in 2013. The eight young women were brought to the conference where they were mentored by both legislators and members of the Women In Government Business Advisory Council.
All of the presentations from the Healthcare Summit are available on Women In Government's website. To learn more about Women In Government, and to view the conference materials, please visit the website at http://www.womeningovernment.org or http://womeningovernment.org/HCSummit2013.