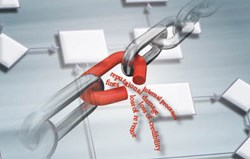 Allowing professionals the opportunity to get ahead of the potential problems that are within their framework.
Hartford, CT (PRWEB) November 25, 2013
NEOS LLC, a business consulting and technology services firm with unparalleled experience in business and technology transformation fefforts, announces the availability of a free webinar on "Leveraging Business Processes to Reduce Operational Risk" on December 11, 2013 at 11 a.m. EST.
Carla Gregory, VP of Consulting Operations at NEOS, along with Patty Kurlansky, an independent financial services professional, and Jill Vancour, CPA, Director and Risk Manager at MassMutual Financial Group will discuss mitigating operational risk through your business processes.
The panelists will define basic terms leading to a conversation around developing an approach to prioritizing the risk assessment effort based on specific situations. At the end of the webinar, attendees will walk away with a better understanding of how leveraging your business processes helps mitigate the people, process, or technology risks that could be threatening your companies.
Operational risk exists in every organization, coming from internal resources that are imperfect. These imperfections create the potential for losses to arise from errors and ineffective operations. Depending upon the infraction caused by unknown risk, a company can suffer fines, loss of revenue, or reputational damage. The size of the loss organizations accept will determine their depth of operational risk.
"This webinar will provide valuable insight to professionals allowing them the opportunity to get ahead of the potential problems that are within their framework. When you have large amounts of employees, processes, and technology, it is easy for things to get uncoordinated. All pieces need to work together to control risk, but it is not always obvious where the risk lies. We come in to point out where processes are not working collaboratively," said Carla Gregory.
This is the second in a series of NEOS hosted webinars focusing on a variety of topics within the financial services, insurance and information media industries. The previous webinar "Harvesting Value from Closed Blocks of Business" offered different perspectives on the process of deciding how to gain value out of a block of business that no longer sells. The webinar series includes experts from across industries to maximize value to attendees.
To register for upcoming webinars, please go to our events page.