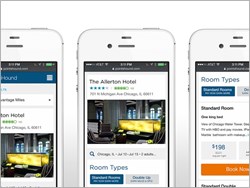 San Francisco, CA (PRWEB) November 25, 2013
PointsHound, a new kind of online hotel booking service that rewards travelers with an unprecedented number of airline miles or points for every hotel stay made through PointsHound.com, has upgraded its mobile booking experience in response to the needs of its global user base of frequent fliers and business travelers. According to travel research company PhoCusWright, $7.5 billion of online hotel bookings in 2013 will come from smartphones and tablets, with over half of all mobile bookings being made on the same day.
PointsHound, which first launched in October 2012, is now mobile-optimized with new functionality and rate offerings that cater to connected travelers who expect mobile booking from preferred brands. PointsHound users now have access to its Premium Concierge Service, powered by CheckMate, to expedite the arrival experience on reservations booked through the site. Users can check in, check out, request preferred rooms, receive last-minute upgrade offers and even receive status alerts on room availability – all through their mobile devices.
Through its newly launched mobile site, PointsHound will also offer travelers a new level of value with special "Mobile-Only" rewards for top properties in major destinations around the world. To celebrate its mobile launch, PointsHound is running a Mobile-Only sale starting on Tuesday, November 26, 2013 and available through CyberMonday. PointsHound users who book a stay on their mobile devices during the promotion will automatically receive 1,000 extra miles from their favorite loyalty program. That's in addition to the miles already awarded at the time of booking, which can range from 3-15 miles per dollar spent.
"Our mobile launch is another way we've leveraged the most modern technologies to improve the hotel experience for our users – from booking through check-in," said Chris Boyd, Co-Founder of PointsHound. "Mobile technology is changing how business travelers interact with hotels, from comparing rates online all the way up to checking in or out of the property."
PointsHound users can now earn points and miles with a growing roster of 12 loyalty rewards programs when making hotel reservations on their phone or tablet at over 150,000 properties around the globe. To make a reservation or to learn more about PointsHound, visit http://www.pointshound.com.
To schedule an interview with PointsHound Co-Founder Chris Boyd to discuss how mobile is creating a better booking experience for frequent travelers, please contact Vanessa Horwell at +1.305.749.5342 ext. 232 or at vanessa(at)thinkinkpr(dot)com and Kyrsten Cazas at +1.305.749.5243 ext. 242 or at kcazas(at)thinkinkpr(dot)com for more information.
About PointsHound
PointsHound was built specifically for frequent travelers. It's an online hotel booking engine and loyalty currency aggregator that allows members not just to earn loyalty points for staying in their favorite hotels but also to earn bonus rewards in the form of airline miles. Members of the free-to-use site have access to over 150,000 hotels worldwide, including boutique and non-chain properties. For more information, please visit http://www.pointshound.com.