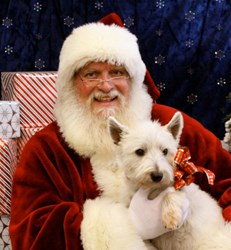 We commend DAWS for working hard to save the lives of pets while placing them in loving homes.
Wilton, CT (PRWEB) November 25, 2013
As the holidays near, Canine Company has partnered with the Danbury Animal Welfare Society (DAWS) to supplement fundraising efforts and to provide community members with a fun activity to share with their families, friends and pets. 'Santa Paws for DAWS' will take place on Saturday, December 7th, at 493 Danbury Road in Wilton, CT. From 11:00 AM to 3:00 PM, families will enjoy pictures with Santa Claus, baked goods, prize raffles, dogs and cats for adoption, discounts in-store to shop for gifts, and a meet and greet with K9 Officer Enzo of the Wilton Police Department. Attendees are asked to make a nominal donation to support the work of DAWS.
Danbury Animal Welfare Society, Inc. is a non-profit organization dedicated to improving the lives of animals in the greater Danbury community and beyond. Since January 2013, DAWS has helped over 570 dogs and cats find their forever homes. In addition to their rescue and adoption efforts, they offer services geared towards ending animal overpopulation. DAWS promotes responsible pet guardianship and the humane treatment of animals through education and a variety of community-oriented programs. Their hope is to one day build a modern facility that enables them to expand their rescue and adoption, community outreach and education services, and continue to grow as a trusted community resource.
"We are grateful to our friends at Canine Company for their support of DAWS, not only with the Santa Paws for DAWS event, but for supporting many of our other fundraising events," says Chris Rohland, President of the DAWS Board of Directors. "As a non-profit organization, we rely on donors and sponsors for support. All of the money raised at this event will go directly to the care of our animals, whether it is to provide food, shelter, or medical care."
Shelters and rescue organizations work incredibly hard to find homes for animals and Canine Company is committed to making sure these pets stay in good homes. "We share the mission of keeping dogs and cats safe and alive. Our products and services are intended to enrich relationships between pets and their owners by ensuring safety and reducing stress. We commend DAWS for working hard to save the lives of pets while placing them in loving homes," said Jennifer Hill, Owner and VP of Canine Company.
Canine Company was founded in 1983 as the Hill family was seeking a solution to keep their dogs safe at home. Today, the family-owned business aims to provide peace of mind for pet owners through several services: Invisible Fence® Brand, the leader in electronic containment systems; Manners, personalized, in-home obedience training for pets; and their online Pet Shop, a simple way to purchase innovative, reliable pet products. With a pet-loving team of experts throughout the Northeast, Canine Company is dedicated to keeping pets happy, healthy and protected while building lasting relationships with their owners.
Danbury Animal Welfare Society, Inc., is a non-profit 501(c)(3) and donations are fully tax-deductible to the amount allowed by law. For more information, visit http://www.daws.org. To learn more about Canine Company offerings, Invisible Fence® Brand and Manners in-home obedience training, visit http://www.caninecompany.com or follow them on Facebook at https://www.facebook.com/caninecompanyusa. For media inquiries, contact Audrey Lindner at marketing(at)caninecompany(dot)com.