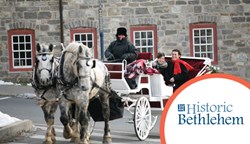 Lehigh Valley, PA (PRWEB) December 04, 2013
Home to Bethlehem, Pa., the "Christmas City," Lehigh Valley has even more attractions and events this holiday season than last year. From scenic horse drawn carriage rides over cobblestone streets to multiple performances of "A Christmas Carol," no other place feels more like the holidays.
And, on New Year's Eve, Lehigh Valley is home to the one and only PEEP® drop at PEEPSFEST™, one of the most interesting ways to celebrate ringing in 2014!
Just a few of the holiday and New Year's attractions visitors can enjoy in Lehigh Valley include:
HOLIDAY EVENTS:
Christkindlmarkt
ArtsQuest's popular holiday marketplace returns for its 21st year in 2013 in south Bethlehem, Pa. Recognized by Travel + Leisure® magazine as one of the top holiday markets in the world, Christkindlmarkt Bethlehem showcases aisles of exquisite handmade works by the nation's finest artisans, the heart-warming sounds of live Christmas music, delicious food and more.
The Civic Theatre's Performance of "A Christmas Carol"
The Civic Theatre's annual performance of "A Christmas Carol" has become a Lehigh Valley tradition. Don't miss Charles Dickens' classic tale of Ebenezer Scrooge's transformation after he encounters the ghost of Christmas past, present and yet to come from December 6 through December 21.
Historic Bethlehem Museums and Sites
In 1937, the city of Bethlehem, Pa. was deemed "Christmas City." Today, that namesake couldn't be truer. Historic Bethlehem's Christmas walking and bus tours take visitors back in time to a simpler place. Also, visit downtown Bethlehem for carriage rides and the special "Christmas Village" outdoor shopping market.
Allentown's Lights in the Parkway
Allentown's 18th annual Lights in the Parkway display is a great way to recapture the joy of the holidays that you felt when you were a kid. The magical lights and displays along the Little Lehigh Parkway illuminate at night to create a winter wonderland. Take a short tour by horse drawn carriage or with your own four wheels. Allentown has also released a Lights in the Parkway app for iPads. Tickets are $6 in advance or $8 at the gate.
Koziar's Christmas Village
Koziar's Christmas Village is as close to a winter wonderland as you can get, filled with over half a million Christmas lights covering buildings, barns and all sorts of holiday landscapes adjacent to a beautiful lake reflecting the stunning lights. The Koziar family has been adding new features to this outdoor wonderland for more than 60 years.
The Moravian Historical Society "Christmas in Nazareth"
Enjoy a day of shopping, eating and family fun during Christmas in Nazareth on December 14. Families will enjoy an afternoon filled with activities for all ages. Enjoy a live nativity with animals at Moravian Hall Square, make an ornament with C. F. Martin & Co. out of guitar sound holes at the Old Martin Homestead, and meet Santa Claus at the Memorial Library for Nazareth and vicinity.
NEW YEAR'S EVENTS
Lehigh Valley has multiple New Year's Eve events and travel packages for those interested in ringing in the New Year in style including:
The Crayola Experience™ New Year's Eve!
Head to The Crayola Experience™ for the New Year's Eve Family Celebration, where you're gonna party like it's … 2014! From noon to 7 p.m., there will be loads of arts & crafts, entertainment and activities for the whole family, building up to the big event when we count down as the Crayola Crayon drops to celebrate the New Year. Tickets are $19.00 per person.
PEEPSFEST™
Celebrate the coming of 2013 with one of America's favorite candies, the marshmallow PEEPS® at PEEPSFEST™ from December 30 - 31. Guests will enjoy live music, arts & crafts, movies, s'more making, photos with the PEEPS® Chick and much more! Highlights include the PEEPS® Family Disco Party in the Musikfest Café, penguins from the Lehigh Valley Zoo, a Coca-Cola chalet character breakfast featuring the PEEPS® Chick and other area mascots, and a family-friendly New Year's Eve Party on Dec. 31.
For a full listing of holiday events in Lehigh Valley, please visit LehighValleyHolidays.com.
About Discover Lehigh Valley
Discover Lehigh Valley is the designated destination marketing organization (DMO) of Lehigh and Northampton counties. Its mission is to promote and develop Lehigh Valley as a leisure and business travel destination. Created in 1984, Discover Lehigh Valley assists in promoting regional tourism, an industry that generates $1.76 billion in annual revenue and accounts for more than 22,000 jobs in Lehigh Valley. For more information on Discover Lehigh Valley and its activities or to request a Lehigh Valley Official Visitors Guide, call (800) MEET-HERE, or visit the official tourism website of Lehigh Valley at DiscoverLehighValley.com.