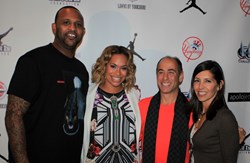 I am honored to be a part of the PitCCh In Foundation team encouraging inner-city kids to push forward in their lives and strive for their goals.
Westwood, NJ (PRWEB) November 25, 2013
Westwood, NJ-based award-winning Lawns by Yorkshire's CEO Steven Jomides and his wife Andrea have partnered with New York Yankees pitcher CC Sabathia, his wife Amber, and their non-profit charity organization PitCCh In Foundation, devoted to enriching the lives of inner city youth primarily in the New York City tri-state area and raising their self-esteem through the support of academic and athletic programs.
Jomides and Sabathia's first signature event together, the CC Challenge, now in its third year, was held in New York City's Central Park on Saturday, November 9, 2013. The Sabathias led 30 sponsored teams of spirited contestants on an adventurous scavenger hunt through in search of clues that led to the finish line and the coveted CC Cup to benefit the PitCCh In Foundation.
"CC and Amber are a truly inspirational couple—humble, grounded and enthusiastic—who are already making a positive difference in the world with the gifts they've been given," said Steven Jomides. "I am honored to be a part of the PitCCh In Foundation team encouraging inner-city kids to push forward in their lives and strive for their goals. Today more than ever, these kids need hope... and PitCCh In continues to provide the ultimate recipe for that. I can't think of a better foundation to lend my support and they happen to be right in my backyard."
Sabathia is a six-time All-Star Cy Young Award-winning pitcher and World Series champion. He and his wife Amber are the co-founders of the PitCCh In Foundation and work year-round to provide urban youth with Signature programs including the All-Star baseball clinics, back to school backpack and school supplies giveaways in the Bronx, holiday activities and programs support, as well as youth athletic fields and community center renovations.
Sabathia recognizes Lawns by Yorkshire as a key player in supporting the PitCCh In foundation and looks forward to building a long-lasting relationship and being an integral part of the foundation's future. "Amber and I are extremely pleased that Lawns by Yorkshire teamed with us as a major sponsor of the CC Challenge to provide hope and promise to the myriad of the inner city youth we serve from coast to coast," said CC Sabathia.
ABOUT LAWNS BY YORKSHIRE
Since 1988, Lawns by Yorkshire has provided green and sustainable landscape and snow and ice removal services including landscape maintenance, landscape installation, water management, irrigation and tree care throughout New Jersey and New York. Lawns by Yorkshire serves multiple markets including multi-family, HOAs, office parks, retail and shopping centers, hotel and hospitality, senior living, school and corporate campuses, municipalities, and industrial and sporting complexes. With a crew of more than 100 trained, certified, and knowledgeable employees engaged in a systems-oriented approach using new technologies, the company has been recognized as one of the nation's leaders in snow removal services serving some of the most complex facilities in the Northeastern U.S.
With his roots sown deeply into the community, Jomides has formed a corporate stewardship and scholarship program, including his partnership with the PitCCh In Foundation, that donates a portion of his earnings back to helping the very communities he serves. Visit http://www.lawnsbyyorkshire.com for more information
ABOUT THE PitCCh In Foundation
Amber and CC Sabathia co-founded the PitCCh In Foundation in 2009. PitCCh In is a 501 (c)(3) non-profit organization that supports inner-city youth through the funding and support of academic and athletic programs in New York and Northern California. To learn more visit http://www.PitCCh.org.
PRESS CONTACT
Tom Crain
tecrain(at)goingreenguy(dot)com
330-634-6489