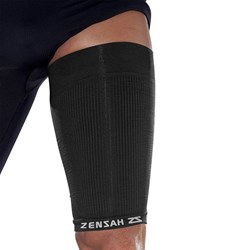 Our newly improved thigh sleeve features truly innovative pin-point compression to help target key areas in athlete's upper legs
Miami, FL (PRWEB) November 23, 2013
Zensah®, a leading manufacturer of athletic compression apparel, has announced the release of their new thigh compression sleeve. The new thigh sleeve provides athletes with superior muscle support and recovery in the upper leg area.
The Zensah® Thigh Compression Sleeve features pin-point compression to stabilize quad and hamstring muscles. Made of proprietary Zensah® fabric, the thigh sleeve is moisture wicking and antimicrobial, ensuring it stays dry even during the hardest workouts and runs. Seamless technology provides the ultimate comfort by preventing chafing and irritation.
The sleeve is beneficial when used post-activity for recovery purposes. The innovative compression technology helps to improve circulation, providing muscles with an increased level of oxygen. This aides the muscle in rebuilding itself and decreases overall recovery time.
"We are very excited to release our new thigh compression sleeve. Runners and all athletes often suffer from muscle strains in the quad and hamstring area. Our newly improved thigh sleeve features truly innovative pin-point compression to help target key areas in athlete's upper legs. Whether using the thigh sleeve during activity or for recovery, our new sleeve provides unmatched support and comfort," says Zensah Spokesperson Parker Robinson.
The Zensah® Thigh Compression Sleeve is available for sale at http://www.zensah.com and at specialty running stores across the United States.
About Zensah®:
Zensah®, the Miami-based compression brand, leads the growth for compression apparel in the running industry. The company is recognized for utilizing seamless technology in all of its athletic apparel. Their seamless compression products are praised by all athletes. Zensah® has the number one selling Compression Leg Sleeves in the US for Running Specialty.
Parker Robinson
marketing(at)zensah(dot)com
ZENSAH® COMPRESSION APPAREL
(305) 935-4619