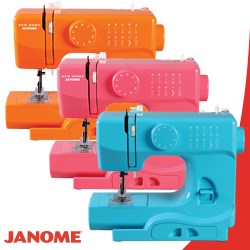 Sewists are looking to put their creative mark on everything...They want to choose their sewing machine based on that creativity.
Mahwah, NJ (PRWEB) November 26, 2013
In recent years, the world of product design has seen an amazing increase in the use of color. High-end showrooms that once contained only stainless steel now offer a myriad of color choices for the design-conscious shopper.
One notable hold-out on the use of color in home appliances has been the sewing machine. At its inception, the sewing machine was a utilitarian tool: It allowed women to stitch necessary items faster. Much like the Model T, all of the first sewing machines were black in color. In more recent years, the color of choice has been white, with the prevailing wisdom among designers that this color best hides the lint created by the sewing process.
The nature of the task of sewing has also changed through time, and where this task was once a necessity, it is now a creative pursuit. As more people look to add DIY touches to their homes and wardrobes, sewing has seen a significant surge in interest. It seems strange that the tool for creative hobbyists, the sewing machine, has remained utilitarian in color, until now.
Fawn Coutant, Director of Sales for Janome America, Inc. oversaw the recent launch of Janome's Derby Line of sewing machines in a wide spectrum of colors. "We found that sewists were looking to put their creative mark on everything – from their homes to their clothes. Just as they seek to define their surroundings with their creativity, they want to choose their sewing machine based on that creativity. And so, we introduced The Derby Line, and offered six vibrant color options."
The machines are basic in function, but can handle a variety of tasks, from curtains to hemming to paper crafting. They have specialized features for kids, like a finger guard to keep hands from the needle area, but have seen great success with all types and ages of sewists – especially those where space is an issue. "The response has been great," says Coutant. "Our customers love the ability to choose their favorite color, and the great design means storage is not an issue – they just show them off on their bookcases when not in use!"
Janome America is a subsidiary of the Janome Sewing Machine Company of Japan, a category leader whose machines are recognized throughout the industry for ease-of-use and innovative design.