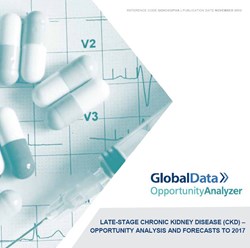 Rockville, MD (PRWEB) November 27, 2013
OpportunityAnalyzer: Late-Stage Chronic Kidney Disease (CKD) - Opportunity Analysis and Forecasts to 2017
Late-stage chronic kidney disease (CKD), encompassing stage 4 and 5 CKD, is a disease that manifests in a host of co-morbidities. Of these, bone and mineral metabolism disorders are some of the most commonly treated and have significant impact on morbidity and mortality of patients. This report focuses on the current treatment landscape, unmet needs, pipeline and remaining opportunity in the late-stage CKD market with a focus on the treatment of hyperphosphatemia and secondary hyperparathyroidism (SHPT). GlobalData expects the late-stage CKD market to undergo significant flux over the next five years in the US and 5EU. This changeable landscape is a consequence of a number of contributory factors, including the patent expiries of market leading hyperphosphatemia brands, and the expected launch of three new entrants to the market.
GlobalData expects US and European healthcare reimbursement reforms to have a drastic impact on the dialysis-dependent CKD market. This is particularly the case in the US, where the treatment landscape for dialysis care has changed significantly due to the 2011 inclusion of IV drugs to the Medicare dialysis reimbursement bundle. This bundle is likely to be expanded to include oral treatments during the study period of the report (2012-2017) and will thus have a major constraining impact on sales for oral drugs in this market.
To order this report: OpportunityAnalyzer: Late-Stage Chronic Kidney Disease (CKD) - Opportunity Analysis and Forecasts to 2017.
Contact: Shauna
800.298.5699
Customerservice(at)marketresearch(dot)com
GlobalData
GlobalData is the premier source of actionable insight into the energy and healthcare industries. With the combined expertise of more than 1,000 researchers, market analysts and consultants, we provide high-quality, accurate and transparent industry insight that helps our clients to achieve growth and increase business value.
About MarketResearch.com
MarketResearch.com is the leading provider of global market intelligence products and services. With research reports from more than 720 top consulting and advisory firms, MarketResearch.com offers instant online access to the world's most extensive database of expert insights on global industries, companies, products, and trends. Moreover, MarketResearch.com's Research Specialists have in-depth knowledge of the publishers and the various types of reports in their respective industries and are ready to provide research assistance.
Follow us on Facebook http://www.facebook.com/marketresearchdotcom.
Follow us on Twitter http://www.twitter.com/marketresearch_.
OpportunityAnalyzer: Late-Stage Chronic Kidney Disease (CKD) - Opportunity Analysis and Forecasts to 2017 – Table of Contents:
1 Table of Contents
2 Introduction
3 Disease Overview
3.1 Etiology and Pathophysiology
3.1.1 Etiology
3.1.2 Pathophysiology
3.2 Symptoms
3.3 Disease Management
3.3.1 Diagnosis
3.3.2 Drug Treatment for Underlying Causes of CKD
4 Epidemiology
5 Current Treatment Options
6 Unmet Needs Assessment and Opportunity Analysis
7 R&D Strategies
8 Pipeline Assessment
9 Pipeline Valuation Analysis