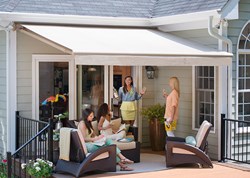 Keep cool with a Solair awning.
Elmsford, New York (PRWEB) November 24, 2013
Even though the temperatures are getting chilly, it's never too late to start thinking about the warmer days ahead, which is why Best in Backyards is proud to announce its latest addition to its product line: Solair retractable awnings.
The retractable awnings can cool decks or patios by 20 degrees and block up to 98% of harmful UV rays, which can transform an overheated backyard into a cool respite. The awnings are made from fade-proof Sunbrella fabric, which is one of the most trusted, leading brands on the market to date.
Vice President of Sales Rolf Zimmermann said, "The fact that the awnings retract were a huge draw to us, here at Best in Backyards. You can retract if it you want sun, or leave it out all season long to shade you from any rays. Forget any outdated aluminum awnings that are an eyesore, and forget canopies that can blow over with one heavy storm. The Solair awnings use Sunbrella fabrics and blend in, anywhere."
Moreover, Solair awnings are money saving. By shading sides of the home, cooling costs -- come summer time -- are less pricey, which adds a functional aesthetic to any backyard.
Best in Backyards is the one-stop shop for all things needed to turn a hum-drum backyard into a luxurious outdoor space any person can enjoy, be it an adult or a child. In addition to awnings, products include basketball goals, stone outdoor kitchen islands with grills, pergolas, pavilions, cedar swing sets, and more.
Best in Backyards is the retail brand of Eastern Jungle gym and has six locations in Connecticut and New York. Along with the purchase of products, the outdoor amenity business offers delivery and installation services, as well as warranties that vary per product.
For more information, visit http://www.bestinbackyards.com.
About Best in Backyards
Best in Backyards is the retail arm and showroom brand of Eastern Jungle Gym, one of the leading manufacturers and suppliers of outdoor wooden swing sets. The company was founded over 20 years ago by a family with intent to manufacture high-quality cedar swing sets, fit to fill any backyard and last a lifetime. The company is located in the northeastern United States with retail showrooms currently located in New York and Connecticut.
For more information about Best in Backyards, go to http://www.bestinbackyards.com, visit one of six locations showrooms or call 1-800-752-9787.