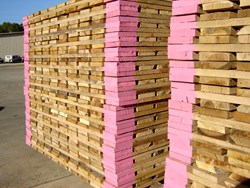 Beaumont, TX (PRWEB) November 25, 2013
On Sunday, November 17th a band of severe tornadoes tore through the Midwest. Shortly thereafter, Quality Mat Company received an order for a number of laminated mats to be sent to Illinois to be used in the cleanup.
Quality Mat has been a leader in the mat rental industry since the company was founded by Joe Penland Sr. in 1974. These ground protection mats have been used to aid in the cleanup efforts at Ground Zero, as well as many other natural disaster cleanup efforts. Laminated mats provide a strong, stable, and durable surface that keeps workers and volunteers safe during disaster recoveries.
According to the National Weather Service, approximately 150 tornado warnings were sent out on November 17th alone, expecting this to be one of the top five November tornado outbreaks on record in the U.S. Illinois Governor Pat Quinn has declared 15 Illinois counties as state disaster areas. "We're shipping a number of laminated mats to Illinois. Mainly for the power lines and utility companies to use, so they can help restore power lines," says Joe Penland Jr.
Each laminated mat is constructed using high quality hardwoods and materials, so they're built to stand up to the wear and tear required for environmental cleanups. They're lightweight and easily maneuverable, allowing them to be used many different ways.
Quality Mat Company has multiple warehouses and a large inventory of ground protection mats, and can fulfill large orders at any time. "Unlike other people in the business we've been known to respond fast. It's an emergency situation and they need someone to respond immediately to remove debris, and what not. Our mats are more readily available than most other companies in the industry," Penland said.
While Illinois is the only state that requested laminated mats, it was far from the only state to experience Sunday's tornados. According to the National Weather Service, at least 62 confirmed tornados wreaked havoc across Tennessee, Ohio, Kentucky, Indiana, and Missouri. For additional information regarding last week's severe weather, visit the National Weather Service.
About Quality Mat Company
The Quality Mat Company has been an industry leader in ground protection mats since 1974. Based in Beaumont, Texas, over the years, Quality Mat has provided ground protection mats and rental mats to a variety of companies to aid in environmental and natural disaster cleanups.