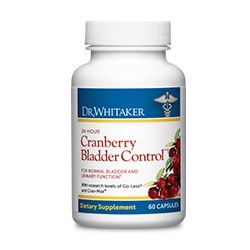 Bladder control and urinary tract health are top concerns for many women, particularly as they get older.
Potomac, MD (PRWEB) November 26, 2013
Healthy Directions, LLC, today announced the launch of Cranberry Bladder Control™, a unique bladder supplement formulated by Julian Whitaker, MD, that naturally promotes urinary continence and helps to maintain urinary tract health.
Cranberry Bladder Control™ contains clinically-researched daily dosages of two proprietary ingredients: Go-Less®, a blend of a special, water-soluble pumpkin seed extract and soy isoflavones, that strengthens bladder and pelvic muscles to promote normal bladder activity and function; and Cran-Max®, a unique cranberry extract that provides all vital parts of the cranberry, including the skin, seeds, pulp, juice, and fiber, and utilizes a patented delivery system (Bio-Shield® Technology) to ensure survival through the digestive system so it makes it to the urinary tract where it is needed most.
Together, the ingredients in Cranberry Bladder Control™ reduce urinary frequency, lessen bladder overactivity, promote overall bladder health, and support a healthy urinary environment. In fact, studies have shown that Go-Less® can reduce the number of trips to the bathroom by 40 percent during the night (for both women and men) and 16 percent during the day, and improve urinary leakage by up to 80 percent. Cran-Max® also has been demonstrated in clinical research to support a healthy urinary environment.
"When I first discovered how powerful Go-Less® was at reducing the frequency of nighttime urination, I added it to my Prostate Health formula," says Dr. Julian Whitaker, one of the pioneers of alternative medicine and an expert on nutritional supplementation. "Then when I realized its effectiveness at decreasing daytime urination as well, I knew women concerned about maintaining optimal bladder activity and control could benefit from it, too. Furthermore, because many women also rely on cranberry juice for keeping their urinary tracts in tip-top shape, I wanted to provide them with a more convenient way to reap these benefits as well."
"Bladder control and urinary tract health are top concerns for many women, particularly as they get older," says Healthy Directions CEO Connie Hallquist. "So I am delighted that Healthy Directions and Dr. Whitaker were able to work together to develop a bladder supplement that provides a safe, effective, and comprehensive approach."
Cranberry Bladder Control™ is available at DrWhitaker.com and HealthyDirections.com.
# # #
About Healthy Directions
Healthy Directions, LLC, a leading health publisher and direct-to-consumer retailer of doctor-formulated nutritional supplements and skincare products, is dedicated to helping people lead healthier, happier lives. Healthy Directions provides expert guidance and advanced nutritional supplements from America's most knowledgeable and highly respected integrative and alternative health doctors including Julian Whitaker, MD, Dr. David Williams, Stephen Sinatra, MD, Susan Lark, MD, Aaron Tabor, MD, Richard Wurtman, MD, and Joseph Pergolizzi, Jr., MD.