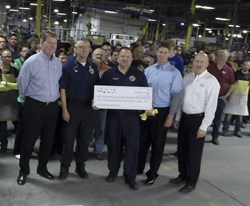 MI Windows and Doors has always made it a priority to give back to the communities that have helped us succeed. -Stan Sullivan
(PRWEB) November 22, 2013
On November 19, 2013, MI Windows and Doors and their key suppliers donated a check for $10,000 to the Prescott Area Wildland Defense Fund. This donation is the first part of a pledge from MIWD to donate $25,000 over the next five years to help the fire department rebuild their wildfire defense teams.
The funds will go towards rebuilding a 10 person crew that proactively works to prevent wildland fires by educating the public on the real threat of wildfire, reducing the threat of wildfire to the community, and assisting homeowners in the creation of defensible space on their property. It costs over $1000 in chainsaws and safety gear to outfit each crew member. The money donated will go directly toward outfitting that crew.
MIWD's top suppliers: Cardinal Glass, Veka Inc, Quanex Building Products, ISC, and The Amesbury Company each donated $1000 and MIWD matched those funds. Mike DeSoto, MIWD Chief Operating Officer, presented Prescott Fire Department Chief Eric Kriwer a check for $10,000 payable to Prescott Area Wildland Defense Fund.
DeSoto said he was saddened by the tragedy that killed 19 members of the Granite Mountain Hotshots. "June 30th was a tragic day for the Prescott Area. The loss of the Granite Mountain Hot Shot fire fighters struck deep into the whole community. Some MIWD team members lost close friends. All of us felt the weight of the loss and most were asking, 'What can we do as a company to help?' When I reached out to our key suppliers to see how we could help together, they all agreed without hesitation to assist."
Wildfires are a constant threat in the western US and especially in the dry forested areas like those surrounding the Prescott/Prescott Valley Area. To combat the fire hazard, the fire departments employ both offensive and defensive strategies. Defending fires is very dangerous and very costly. Offensive measures, such as controlled burns, are less dangerous and less costly.
Also on hand for the donation was Stan Sullivan, MIWD Chief Sales and Marketing Officer, who reiterated the company's mission to be a strong part of local communities where it has facilities. "MI Windows and Doors has always made it a priority to give back to the communities that have helped us succeed," stated Sullivan. "We're happy to do what we can to enhance the quality of life where our team members live, work and play."
MIWD encourages other individuals and companies help out as well. Donations can be made to Prescott Firefighter's Charities via their website, http://www.prescottffcharities.org/.
About MIWD
Founded in 1947, MI Windows and Doors is one of the nation's largest suppliers of energy efficient vinyl, aluminum, and composite windows and doors. With plants across the country, MIWD offers a broad spectrum of windows and doors backed by exemplary customer service. The company's character, integrity, and commitment are exemplified by the people that represent it nationwide. For more information about MIWD, visit miwd.com.