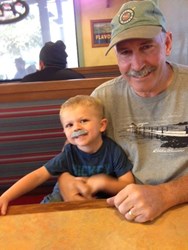 Real or fake, Sunland RV Resorts is donating $1 for every mustached smile photo received.
San Diego (PRWEB) November 22, 2013
On November 1, Sunland RV Resorts joined the efforts of the annual fundraiser, Movember. In lieu of growing a mustache, or "mo," Sunland has been asking staff, guests and social media fans to submit mustached photos on the company's main website.
Real or fake, Sunland RV Resorts is donating $1 for every mustached smile photo received. Hoping to raise $1,000 for Movember's causes – testicular cancer, prostate cancer, and mental health issues – Sunland RV Resorts will continue to accept submissions through November 30.
As of November 20, over 125 photos had been submitted.
"It's very important to Sunland RV Resorts to get our company and our guests involved with these great causes," remarked Greg Sidoroff, Vice President of Operations at Sunland RV Resorts. "We're looking forward to even more submissions in these final days of November, and hope to donate as much as possible this Movember."
Men, women, children and even pets are eligible to submit photos. Guests at any of Sunland's eight resorts can head into the resort office to get their mustached photo snapped, and anyone can upload their photos on the corporate site.
For more information on Sunland RV Resorts' participation in Movember 2013, visit sunlandrvresorts.com/movember-2013. For more information on Movember, visit their official website http://www.us.movember.com.
###
About Sunland RV Resorts:
Sunland RV Resorts is a leading outdoor resort developer and operator with eight locations in California and Florida. Sunland properties are located in top tourist destinations and feature upscale, resort-style amenities; including pools, sport courts and spacious clubhouses. Sunland resorts are located in San Diego, Calif.; Escondido, Calif.; El Cajon, Calif.; Hemet, Calif.; Palm Desert, Calif.; and Okeechobee, Fla. For more information on Sunland or any of its resorts, visit http://www.sunlandrvresorts.com.