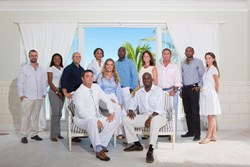 Bringing The World To Paradise
Providenciales, Turks and Caicos Islands. (PRWEB) December 10, 2013
The amalgamated firm constitutes the only Turks and Caicos Islands affiliate of Christie's International Real Estate and will continue operations under the Regency Christie's International Estates name. The decision to merge operations is a logical move for the two local TCI luxury real estate companies who share mutual goals and a strong history of cooperation in past real estate ventures.
Katherine Baryluk, co-owner of Regency, said "We are delighted to join forces with Horton Realty. This merger makes sense for two companies who have worked together so cohesively in the past. By merging our inventories, personnel and talents we can now offer clients more customizable marketing initiatives, as our firms' areas of expertise are diverse and complimentary. As Belongers, we understand the local market, and are passionate about sharing all that the Islands have to offer to both the local and international communities."
Walter Gardiner Jr., owner of Horton Realty, is looking forward to strengthening the brand's presence in the local market while expanding the International marketing audience for Horton's existing clientele. Since its inception in 1999, Horton has been an industry leader specializing in luxury real-estate sales, resort property sales and development consulting throughout TCI. Gardiner Jr., brings expert knowledge of real estate development having played an integral role in the sales and marketing of many of the country's condominium and residential developments.
As a top producer in the market of luxury properties, Regency offers clients 30 years of expertise, unparalleled market knowledge, innovative marketing systems and access to broad international outreach. Regency operates as the exclusive affiliate, by invitation only, to Christie's International Real Estate, the World's largest network of brokers specializing in high-value real estate.
ABOUT REGENCY CHRISTIE'S INTERNATIONAL REAL ESTATE
Regency Christie's International Real Estate invites discerning clientele to experience the finest in luxury real estate services in the Turks & Caicos Islands. As the exclusive TCI Affiliate of Christie's International Real Estate, Regency offers clients unparalleled market knowledge, innovative marketing systems and broad International outreach. For additional information about Regency Christie's International Real Estate, please visit http://www.THEturksandcaicos.com
ABOUT CHRISTIE'S INTERNATIONAL REAL ESTATE
Christie's International Real Estate is an invitation-only Affiliate network composed of the world's most proven and qualified real estate specialists in the luxury residential sector. The company has offices in London, New York, Hong Kong, Beverly Hills, Chicago, and Palm Beach, and more than 130 global Affiliates with 25,000 real estate professionals in 46 countries. For additional information about Christie's International Real Estate, please visit http://www.christiesrealestate.com