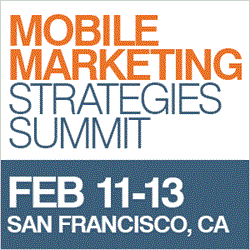 Making the mobile experience enjoyable, easy and convenient keeps members engaged in their health care, ultimately resulting in better health
San Francisco, CA (PRWEB) December 02, 2013
Global Strategic Management Institute (GSMI) is excited to announce that the 7th installment of the Mobile Marketing Strategies Summit (MMSS) agenda will feature Kaiser Permanente. The Summit will be held this February 11-13, 2014 at the Marines' Memorial Club and Hotel in San Francisco, CA.
Kaiser Permanente's Brian Gardner, Head of the Mobile Center for Excellence will discuss how the Kaiser Permanente App provides 9 million members with anytime, anywhere access to their care providers, health information, and health management tools. "Making the mobile experience enjoyable, easy and convenient keeps members engaged in their health care, ultimately resulting in better health," says Gardner.
Brian Gardner leads Kaiser Permanente's Mobility Center of Excellence, a group responsible for the design, development and delivery of all Kaiser Permanente mobile products—consumer, clinician and workforce. The group produced Kaiser Permanente's flagship app, which enables 9 million members to access their personal health records, email their care teams, refill prescriptions and schedule appointments through their mobile devices. To date the app has been downloaded more than 760,000 times. Brian's team also created the Every Body Walk! app, an engaging way to help anyone get moving.
Prior to leading the mobile team, Gardner first joined Kaiser Permanente with the Internet Services Group in 2001, where he managed the development of the health care provider's web presence supporting sales, account management and broker relations. He also led the work to support direct online sales and enrollment for Kaiser Permanente's Medicare, individual and family plans.
Gardner has over 18 years of software product development experience focusing on mobile and web-based applications for health care and health insurance industries. Prior to working at Kaiser Permanente, he created consumer-based mobile applications for companies including eBay, NBC Sports, ESPN, Disney, and Lockheed Martin.
At MMSS, leaders in the mobile industry collaborate to craft a strategic approach to mobile, define and maximize mobile marketing for organizations, determine measures, metrics and analytics for mobile ROI, and to apply strategies and tactics from top brands who have already made a success out of mobile marketing. The Summit this February is the largest MMSS hosted by GSMI with six workshops, one full day Masters Course, twenty four case studies, a panel, and of course plenary and keynote sessions.
Tickets are now on sale. Delegates may register before December 6th and save $400. Group discounts are available. For more speaker information and to register, visit: http://www.mobilemarketingstrategiessummit.com/.
About GSMI:
GSMI is a leader in the industry of executive education, global conferences, summits, and training sessions that combine rich learning environments with the opportunity to network with today's most relevant thought leaders, speakers and practitioners. GSMI's annual events have reached 80% of the Fortune 500 companies, in over 30 countries, and cover topics that today's leaders find most challenging and inspiring.