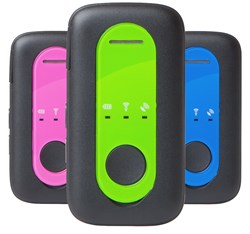 (PRWEB) November 25, 2013
Amber Alert GPS—a world-leader in child tracking and family safety—is proud to announce the unveiling of its next generation product utilizing 3G technology. Starting Monday, November 25, parents and kids will have a new option for staying connected and gaining more peace of mind. The new Amber Alert GPS product, a communication and location tracking device that keeps parents connected with their children anytime, from anywhere, will be available at http://www.amberalertgps.com. Combining the power of AT&T's 3G network with robust Amber Alert GPS features, including award-winning GPS technology, 2-way mobile voice communication and a secure online portal, the product provides an innovative way to keep modern families connected.
"We are excited to provide a device that compliments a busy family's lifestyle and helps to keep children safe," said Alan Baratz, CEO, Amber Alert GPS. "The Amber Alert GPS product gives parents flexibility and peace of mind while providing kids the freedom to be kids—at a price that fits a modern family's budget."
Kids press a single button on the durable, child-friendly Amber Alert GPS product to activate the 2-way call functionality for anything they need – from coordinating a ride home after soccer practice to alerting a parent about a potential danger or medical emergency. There are multiple attachment accessories available, giving children and parents the freedom to choose how to wear the product. With no screen, the product does not allow for Internet access or texting, helping to protect kids from cyber-bullying or content that is not age appropriate. Additionally, the Amber Alert GPS product is the only child locator product with a "School-Ready" function, which some schools may desire to ensure the privacy of student communications. This unique feature disables the ability to call into the device, but still allows the outgoing calling and SOS features to work.
Parents are able to quickly access their child's real-time whereabouts via a secure online portal or mobile phone app. The portal allows parents to access a wealth of information, including a breadcrumb trail of their child's location and setting customized zones and alerts for when the child enters or exits the virtual boundary. Additional features exclusive to the Amber Alert GPS product include predator alerts that let parents know when a child comes within 500 feet of a registered sex offender's residence and speed alerts to inform parents that a child may have gotten into a car that is going above a certain rate of speed. Up to ten authorized family members can be added to an account to receive customizable alerts for the device.
Amber Alert GPS is the leading provider of communication and location tracking products and services for active families. Our unique products are designed for easy use by children and parents to support family connectivity and child safety. Our products incorporate award-winning GPS technology, 2-way mobile voice communications, smartphone apps, a secure online portal, and customized alerting. As part of our mission to help protect children, we support state AMBER Alert Programs by providing a number of states with our Law Enforcement Alerting Portal (L.E.A.P.) technology to issue AMBER Alerts at no cost.
For more information, visit http://www.amberalertgps.com.