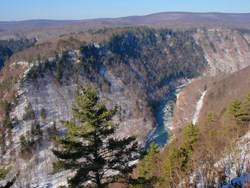 Wellsboro, PA (PRWEB) November 24, 2013
Where do you find a Dutch jazz pianist, a Steinway artist, an award-winning collegiate jazz octet, and a winter outdoor festival during the third weekend of January? In Wellsboro, PA of course!
Endless Mountain Winter Jazz Fest
Now in its fourth year, the Endless Mountain Winter Jazz Festival has captivated audiences from near and far who come to enjoy the pairing of cold temperatures and hot jazz tunes. Here's what you can expect during the 2014 festival weekend, January 17 through January 19:

Jazz pianist Bram Wijnards returns for his third year at the Jazz Fest. He will be performing Friday night at the Deane Center for the Performing Arts, located on Main Street in Wellsboro. Performance starts at 7:30. Cost is $25 per person
A prefixe dinner is being held at the Penn Wells Hotel on Saturday from 5:00 to 7:15. Dinner reservations are required; please call the Penn Wells Hotel at 570-724-2111 for more information. Cost is $25 per person; gratuity is not included.
Following the dinner, the Terry Klinefelter Jazz Trio will be performing at the Penn Wells Hotel at 7:30 p.m. Klinefelter is a Steinway artist who will be performing with bassist Paul Klinefelter and Barry Dove on percussion. Cost is $25 per person.
Sunday Brunch at the Penn Wells Hotel will be from 10:00 a.m. to 2:00 p.m. Cost is $17 per person; gratuity is not included.
The Award Winning Mansfieldians Jazz Vocal Ensemble from Mansfield University will be performing in the Deane Center Lobby on Sunday at 3:00 p.m. Proceeds from this show will go towards the Mansfieldians' 2014 European Tour. Cost is $25 per person.
Individuals interested in attending all of the weekend's activities can purchase a Jazz Fest Weekend pass for $100, but must make reservations for the Saturday Concert, prefixed dinner and Sunday Brunch. For tickets and additional information, please visit http://www.endlessmountain.net/.
Winterfest at Hills Creek State Park
The 14th Annual Winterfest is being held at Hills Creek State Park on Saturday, January 18, giving concert audiences the perfect opportunity to enjoy Tioga County's winter beauty during the day. Just one of the winter activities in the Step Outdoors Network's winter outing series, this event provides visitors young and old with the perfect opportunity to try out a variety of winter activities—sled riding, cross country skiing, and even ice fishing, to name a few—free of charge. Complimentary hot dogs and hot chocolate will be served while supplies last.
Can't make it to Tioga County this weekend? Plan the perfect winter getaway—lodging, dining, entertainment, and more—at http://www.visittiogapa.com.