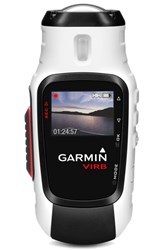 These are the coolest new action cameras ever made..
Bozeman, MT (PRWEB) November 23, 2013
Garmin VIRB Elite action cameras are now in stock at the Heart Rate Watch Company and ready for Christmas gift giving and Holiday delivery.
"These are the coolest new action cameras ever made," says Rusty Squire, President of the Heart Rate Watch Company. He adds, "It does split screens with live footage and maps which is something a GoPro can't do."
FEATURES
In addition to the split screens with live action and GPS maps, the VIRB Elite has a built-in compass, Bluetooth Smart, auto-pause and can even deliver real-time sensory data like heart rate. "This camera has bridged the gap between seeing the adventure and really living the adventure because maps answer a lot of questions that footage cannot alone," says Squire.
"VIRB Elite has high-sensitivity GPS for data stamping and GPS-based "smart" recording profiles such as Skiing Mode, which automatically records your downhill runs and stops recording while you're getting hot cocoa or waiting in the lift line," says Squire. He adds, "It uses a 16 megapixel CMOS for the very highest quality video."
VIRB Elite also has a barometric altimeter and built-in accelerometers to record altitude and sense motion for smart features.
"It's also equipped with Wi-Fi for wireless communication to your smartphone or computer," says Squire. He adds, "So you can see the image preview, control for playback, adjust camera settings, and record and stop the camera or remotely snap still photos, even while the camera is filming."
LONGEST BATTERY LIFE
VIRB Elite uses a 2000mAh battery for up to three hours of continuous recording.
EDITING SOFTWARE
VIRB Edit is free desktop editing software that you can download to your computer for intuitive, robust video editing that takes advantage of VIRB Elite's compatibility with external and built-in sensors and other Garmin devices. "Include your speed and heart rate on your motorcycle video, or accelerometer and altitude on your skydive video," says Squire.
REMOTE CONTROL WITH TACTIX OR FENIX
"You can remote control your Garmin VIRB Elite camera with a Garmin Tactix GPS watch or the Garmin fenix," says Squire.
EXPERT ADVICE
"You can call us at 866-586-7129 to get expert advice," says Squire. He adds, "We have used the VIRB cameras and the editing software so we've got this down and believe that GoPro has some superior competition for this Christmas."