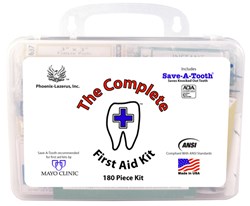 Save your kids teeth with a fabulous Black Friday first aid kit sale.
Wayne, PA (PRWEB) November 24, 2013
During the holidays, all the kids are off from school and accidents are bound to happen. The Complete First Aid kit, sold on this Black Friday sale on Amazon.com, will protect children from life-long dental complications. The Complete First Aid kit has the most diverse set of items of all the standard home kits. Most of the other kits have tons of adhesive bandages and nothing else of value. The Complete First Aid kit includes, in addition to standard first aid items, items rarely found in first aid kits such as a CPR mouth barrier, a splinter remover, a blister breaker, a glow stick and a wide variety of adhesive bandages. It is the only first aid kit that has the revolutionary Save-A-Tooth. The adhesive bandages are made in the USA by the best first aid component manufacturer in the world, Certified Safety Manufacturers.
"Phoenix-Lazerus wants every household to be fully prepared for the inevitable holiday accidents so it is reducing the price of the Complete First Aid kit," says Caitlin Krasner, Director of Business development. "The company's goal is to make the kit affordable so that every family can have one."
There are over five million teeth knocked out in the US each year and all can be saved if households, schools, sports teams and ambulances have Save-A-Tooth's available ahead of time. It is necessary to have them ahead of time because knocked out teeth begin to die as soon as they are out of the mouth and will be dead within sixty minutes. If the Save-A-Tooth is used within the first 60 minutes, it will preserve the knocked out teeth for 24 hours.
"The cost both economically and psychologically to a young child who has not had knocked out teeth replanted is enormous," says Dr. Krasner, Professor of Dentistry at Temple University. "The jaw bones of children between the ages of six and eighteen are still developing so they can't have permanent implants or bridges during this time. They have to wear removable dentures that have to be replaced every year. The social stigma of dentures during these sensitive social years can be devastating. So successfully replanting knocked out teeth is mandatory for these children," he adds.
"The old recommendation of placing knocked out teeth in milk is outdated," says Dr. Henry Rankow Professor of Endodontics at Temple University, School of Dentistry. "Thirty years ago milk was a good way to store teeth but technologically, scientific superior methods have been developed. Using the the Save-A-Tooth to store knocked out teeth provides ten times better success than storing them in milk. The Complete first aid kit is the only home first aid kit that contains one," he continues.
Phoenix-Lazerus, Inc. manufactures and distributes the Save-A-Tooth® system The Complete First Aid kits, The Complete First Aid Sports kit and the Complete First Aid Dental Pro kit. It has been in business since 2001 and is dedicated to producing products completely made in the USA with 100% USA-made parts. It is also the tooth transportation system in the Store-A-Tooth system, the leading transporter and cryogenic storage system for dental stem cells.