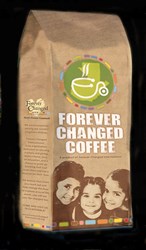 "People who drink this coffee will be falling in love with a taste that is specific to Injerto." says David Campbell owner of Zaidalia Roasters
Camas, WA (PRWEB) December 03, 2013
Forever Changed International, an orphan care ministry based in Camas, Washington, has announced the launch of Forever Changed Coffee, a coffee dedicated to helping the orphans who live at the Dorie's Promise Guatemala orphanage in Guatemala City, Guatemala. The coffee is made from Guatemala's El Injerto beans, roasted by Zaidalia Roasters in Philomath, Oregon, and made to match the coffee the staff and visitors drink at the orphanage.
Heather Radu, founder of Forever Changed International and Dorie's Promise Guatemala, says, "This was a labor of love. For years, people have been coming to serve at Dorie's Promise Guatemala, and they leave in love with the coffee we give them. Getting that coffee into the States has been difficult. Today, we are just thrilled to announce we have a limited supply available. If this goes well, who knows…we would like to see online orders taken while partnering with some coffee shops around the country. In my mind, there is nothing better than great coffee and knowing the money you spent on it is helping orphaned children thrive."
The coffee is available on Forever Changed International's website for a donation of $25 per 1-pound bag. Donors are encouraged to buy as many bags as they want. There are only 150 bags available.
David Campbell, owner of Zaidalia Roasters, says, "We are thrilled to be helping Forever Changed International with this project. El Injerto beans are special. People who drink this coffee will be falling in love with a taste that is specific to Injerto. The fact that each bag helps the children at Dorie's Promise Guatemala makes the whole thing worthwhile. Please help us sell all of the bags so that we have to roast thousands of pounds of beans to help Forever Changed."
El Injerto coffee beans are grown in Guatemala by the descendants of Jesús Aguirre Panamá. Aguirre started growing coffee in 1900. He named his farm El Injerto after a native, local fruit called 'injerto.' Today, the farm is run by third and fourth generations of the Aguirre family. El Injerto is quickly becoming known as an elite brand of coffee coming out of Guatemala.
Forever Changed International was able to buy raw El Injerto beans on the open market in the United States and has worked to perfect its own roast. The goal of the Forever Changed Coffee project is to provide world-class coffee in a way that allows people to get great coffee and see the orphans at Dorie's Promise Guatemala provided for loved — and allowed to thrive.
Located in Guatemala City, Dorie's Promise is an orphanage providing full-time care, housing, quality education, and other amenities for up to 40 children. The home operates solely on donations and grants, primarily from sources in the United States. It is operated by Forever Changed International (FCI), based in the metro Portland, Oregon, area. Founded in 2009 by Heather Radu, FCI is dedicated to rescuing orphans and providing them with a safe, nurturing environment. For more information, contact Radu at 360-335-3125 or e-mail heather(at)servewithfci(dot)org.