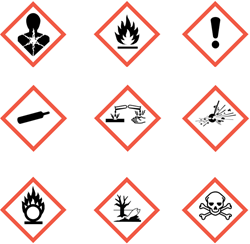 Salt Lake City, UT (PRWEB) November 24, 2013
According to the phased implementation of the revised Hazard Communication Standards, OSHA is requiring employers to train their workers on these new standards by December 1, 2013.
OSHA made revisions to its Hazard Communication Standard in March of 2012 to align with the United Nation's Globally Harmonized System of Classification and Labeling of Chemicals, a system that was adopted in December of 2002. OSHA's revision of the Hazard Communication Standard consists of two changes: 1) use of new labeling elements, and 2) a standardized format for Safety Data Sheets (SDS). Rather than implement the standards on a single date, OSHA is phasing in specific requirements over the next three years.
This first compliance date, effective December 1, 2013, mandates that employers must have trained their workers on both the new labeling elements and the Safety Data Sheets format.
Employers must train their workers on label elements including:

The type of information the employee would expect to see on the new labels including: product identifier, signal word, pictogram, hazard statement(s), precautionary statement(s), and name, address and phone number of the chemical manufacturer, distributor, or importers.
How an employee might use the labels in the workplace.
A general understanding of how the elements work together on a label.
Employers must also train their workers on the format of the SDS including:

The standardized 16-section format.
How the information on the label is related to SDS.
For more information on the revised Hazard Communication Standard, visit http://www.osha.gov/dsg/hazcom.
---
ABOUT BROWZ LLC: BROWZ is the leading solution for comprehensive supply chain risk mitigation. Its fully configurable solution simplifies the exchange, verification, and maintenance of critical data between clients and their supply chain, while adapting to the clients unique business needs. Delivered as a software as a service (SaaS) solution, BROWZ functions as a central, web-based data repository for all supply chain prequalification and compliance information and is available 24/7 and in multiple languages anywhere around the world. Through a combination of compliance expertise, technology, and service, BROWZ addresses supply chain compliance needs related to insurance and risk, environmental health & safety, corporate social responsibility, financial stability, supplier demographics, employee level management, security, and much more. For more information, visit http://www.browz.com.