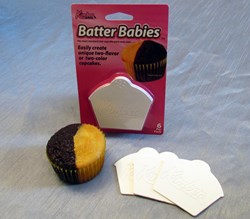 My kids loved making cupcakes with the Batter Babies. Fun project the whole family enjoyed.
Columbus, OH (PRWEB) November 24, 2013
Kimber Cakeware was the first company to introduce half & half cupcakes to the baking world. Batter Babies™, patented in 2012, fit most standard size cupcake pans and baking cups. Shaped liked cupcakes, they measure 2.5 inches high and 3 inches wide. Simply place the Batter Babies™ into the individual cups. Pour two separate batters into each cup, using a pastry bag, squeeze bottle or scoop. Remove Batter Babies™ before baking. Batter Babies™ are made from food-grade plastic and can be used again and again to create endless cupcake combinations (sports team's colors, wedding/bridal showers, birthdays, etc.). Batter Babies™ are dishwasher safe and easy to store. Batter Babies™ retail for $4.99 for a package of six and can be purchased online at http://www.KimberCakeware.com or at Hobby Lobby, Pat Catan's Craft Centers and select Jo-Ann Fabric and Craft stores.
Recently the Batter Babies were awarded the Seal of Approval from Parent Tested Parent Approved.
Visit Kimber Cakeware's website, YouTube, Pinterest, Twitter and Facebook pages for tips, videos and recipe ideas.
Based in Columbus, Ohio, Kimber Cakeware was founded in May 2010. The company holds patents on two unique products, the Batter Daddy™ and Batter Babies™. Every step from design and manufacturing to packaging, the Batter Daddy™ and Batter Babies™ are made in the U.S.A. Kimber Cakeware products are currently selling in countries including the United States, Canada, The Netherlands, England, Italy, France, Australia, India and Belgium.