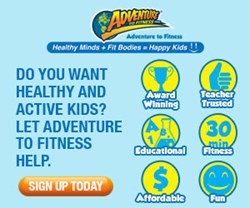 Thanksgiving through New Year's is 'crunch time' as far as family health is concerned.
New York City, NY (PRWEB) November 27, 2013
On Thanksgiving Eve Adventure to Fitness, a NYC startup that produces workout videos for kids, has five "healthy thanksgiving tips" for families to keep in mind this year. The company's popular series of educational fitness videos now reach up to 10 million kids weekly.
"Thanksgiving through New Year's is 'crunch time' as far as family health is concerned," said Kerry Fitzgerald, VP of Operations for Adventure to Fitness. "Families will be spending more time indoors, indulging in feasts and sweets, and engaging in more sedentary behavior. We hope a few simple tips will help families operate at peak efficiency during Thanksgiving and the holidays."
Have a Healthy Thanksgiving! Follow these 5 tips:
1. Make at least one day during the vacation an active day. Our favorite idea: hold a traditional game of touch football on Thanksgiving! Or, pumpkin bowling!
2. Provide plenty of options for fruits and vegetables to help kids find dishes they like. Let kids choose, but make it a rule that at least half the plate must be fruits and veggies.
3. While adults have cocktail hour, keep the kids active. Set out puzzles and art supplies. Or, use fun exercise videos for kids to send them on a fitness adventure!
4. No second helpings on dessert. No exceptions!
5. Encourage kids to eat breakfast on Thanksgiving and they'll be less likely to overeat at dinner. Fasting in preparation for a feast encourages gluttony and unbalanced meals.
About Adventure to Fitness
Adventure to Fitness (AtoF) is the #1 educational fitness program for kids, reaching 10 million children around the world. Through engaging videos, interactive games, tips from physicians, informative blog posts and recipes, AtoF's at-home fitness program offers a 360-degree solution to health and wellness education. Used and trusted by over 100,000 teachers, AtoF was developed with input from leading educational, medical and parenting experts. For more information, visit http://www.adventuretofitness.com.