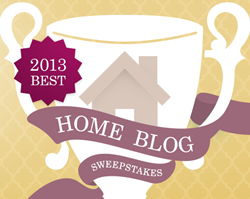 Honoring exceptional work in the home decor blogosphere.
Los Angeles, California (PRWEB) November 25, 2013
Lamps Plus, the nation's largest lighting retailer, announces the winners of the 2013 Best Home Blog Awards, an award that honors exceptional work in the home decor blogosphere. Now in its second year, this annual award designates the best blogs in four home decor-related categories: Interior Design, DIY, Family and Lifestyle.
Today, consumers have unprecedented access to design through blogs. The variety of blogs available allows both consumers and professional designers to find an outlet that inspires their personal style and fits their needs. However, with over 173 million blogs serving as online sources, it can be overwhelming to find the best content for true home decorating advice. In 2007 Lamps Plus started its own blog, Style Illuminated, with an emphasis on style tips and interior design inspiration. Additionally, the corporate blog features a variety of contributors who offer a distinctive eye and fresh voice on current trends.
Along with the Style Illuminated blog, the "Best Home Blog Awards" can be a great resource for consumers who are looking to design bloggers for inspiration, new suggestions and to see products styled organically.
"We're delighted to recognize the 2013 Best Home Blog winners," comments Manja Swanson, Chief Creative Officer at Lamps Plus. "We're at a time when anyone, anywhere can find inspiration for their home, garden, office, etc. through images in a matter of seconds. At Lamps Plus we certainly have our favorites, and we wanted to recognize these blogs that we so cherish reading every day."
Thousands were considered, but only 25 nominees per category were selected by a panel of Lamps Plus design experts, based on a range of criteria from original content and voice to popularity and influence. These nominees were then put to a public vote on Facebook. By category, the results of the 2013 vote for Best Home Blog are:
Interior Design: Angela Betlewicz from Yulee, Florida
http://hickorytrailblog.blogspot.com
DIY: Kate Riley from Petaluma, California
http://www.centsationalgirl.com
Lifestyle: Nikki Rappaport from Washington D.C.
http://www.cupcakesforbreakfast.com
Family: Yvonne Pratt from Willow Street, Pennsylvania
http://www.stonegableblog.com
In its inaugural year, the 2012 Best Home Blog Awards drew on nominees from all four categories and ranked the entire group ordinarily from first to tenth place. For 2013, Lamps Plus decided to move to the new system of one winner per category to better recognize exceptional achievement in each of the four categories.
The Lamps Plus Best Home Blog Awards will return for its third year in fall of 2014. "In both the winners and the nominees, we see an extraordinary depth and quality of home decor blogging today," explains Swanson. "Quality coverage at this level is unprecedented and provides consumers with a wider range of home-related trends, tips and inspiration than ever before. We can't wait to see what we discover in 2014."
About the Lamps Plus Best Home Blog Award
The Lamps Plus Best Home Blog Award is an annual honor recognizing the best interior design, DIY, lifestyle and family blogs. Nominees are chosen by a panel of Lamps Plus design experts. Though nominees are limited to blogs based in the United States, the topics they cover and insights they provide are universal. Winners in each of the four categories are chosen by popular public vote.
About Lamps Plus
For more than 30 years, Lamps Plus has been synonymous with excellence in the retail lighting industry. Established in 1976, Lamps Plus is the nation's largest specialty lighting store, with more than 40 superstores throughout the western United States. In 2013, LampsPlus.com was named a Top 10 Housewares/Home Furnishings e-tailer and a "Hot 100" world's best retail website by Internet Retailer Magazine. Together with its retail locations, the company serves customers nationwide with the largest selection of functional and decorative lighting fixtures, accessories, furniture and home decor. This selection includes hundreds of products, ranging from traditional chandeliers to the latest in home decor, available exclusively from Lamps Plus. The company also holds several patents for innovative lighting. Services offered include in-home lighting consultations, in-store workshops and installation from expert, licensed electricians. American Lighting Association certified designers are available to offer product recommendations and advice in all our stores, by phone or online at LampsPlus.com. The Lamps Plus family of websites also includes 55 Downing Street, Lighting Luxury Style, Builders Discount Lighting, and Lamps Plus Open Box. Visit the official Lamps Plus website: LampsPlus.com.