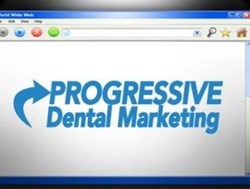 Dunedin, FL (PRWEB) November 22, 2013
As the featured speaker at a recent Periodontal Laser Study Club seminar hosted by periodontist Dr. Armin Abron, Progressive Dental Marketing CEO Bart Knellinger presented a compelling case for the formation of strategic partnerships between periodontists and general dentists. To date, the laser dentistry-focused marketing firm's founder has worked with over 500 practices that offer many different laser protocols including LANAP and DPT, a minimally invasive gum disease treatment alternative.
In addition to laser dentistry marketing, Progressive Dental Marketing also focuses on increasing production of general density treatments post-laser. During the educational seminar at Maggiano's Little Italy on November 7th, Knellinger pointed out the many mutual benefits that accompany strategic referral partnerships between specialists and general dentists. Due to the pervasiveness of gum disease in the United States, there is a growing demand for treatments capable of saving patients' natural teeth, as well as the restorative and cosmetic procedures necessary to restore functioning and aesthetics. However, patients cannot qualify for the majority of dental treatments until their periodontal infection has been eradicated, so referring suitable cases to LANAP-certified or laser certified periodontists can help general dentists increase their own bottom line.
By fostering these relationships through informative discussions like the Periodontal Laser Study Club seminar, Knellinger continues to support Progressive Dental Marketing's mission to "connect patients with clinicians who are committed to providing the highest standard of care." The advanced laser technology utilized in laser gum surgery procedures allows for a decidedly more comfortable patient experience; Dr. Abron and other laser specialists can now remove periodontal disease without the invasive cutting and suturing of traditional gum surgery procedures. Since these treatments are minimally invasive, most patients experience little to no pain or discomfort and can resume their daily activities immediately following the procedure.
By bridging the gap between specialists and general dentists, Progressive Dental Marketing helps grow the practices of specialists who perform cutting-edge dental procedures like LANAP while boosting conversion rates of restorative and cosmetic treatments offered by general dentists.
To learn more about Progressive Dental Marketing and view the complete list of services available, visit http://www.ProgressiveDentalMarketing.com and call (727) 286-6211 to schedule a complimentary dental marketing consultation!
About the Company
Progressive Dental Marketing (PDM) has "changed the game" in regards to marketing for high dollar surgical cases by implementing a Full-Circle Marketing™ approach. PDM is the leading dental marketing company for attracting targeted patients through online marketing, seminars, direct mail, TV, radio and referral programs. The majority of clients will see an eight to ten ROI the first year and staff members are ready to handle the increase in new patient calls with ongoing consulting and training. PDM maintains a 97 percent client retention rate, which is leading by a large margin among dental marketing companies! PDM is based out of Dunedin, FL and always offers a complimentary initial marketing evaluation. The staff includes dedicated account managers and consultants who are available to answer any and all questions. To learn more about PDM, visit their website at http://www.progressivedentalmarketing.com and call (727) 286-6211.