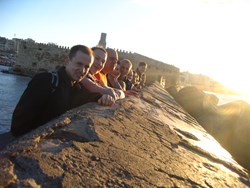 The trip to Crete was a wonderful experience," said Zdancewicz. "I will never forget that incredible journey!
Boston, MA (PRWEB) November 25, 2013
What's the best way to reward a software development team for a job well done? Boost Software™, the Boston-based PC optimization software development company, decided on a unique reward for its development team: A company-paid vacation to Crete, Greece. The trip was in reward and celebration of the development team's work on PC HealthBoost 3.0, which was announced on the Boost Affiliates Blog.
While the software company spared no expense to send its team on vacation, the trip wasn't quite as expensive as most Americans would expect. That's because the company's main development team is stationed in Bialystok, Poland. The city lies close to that nation's border with former Soviet republic Belarus.
The Boost Poland team consists of: Director Mariusz Kilian, Stan Ruchlicki, Marek Jakimiuk, Zdzislaw Trzaska, Tomasz Kozlowski, Karol Zdancewicz and Gregory Raciborski. The developers' significant others came along for the three-day trip as well.
How did the registry cleaning software developers enjoy their trip?
"The trip to Crete was a wonderful experience," said Zdancewicz. "I will never forget that incredible journey!"
The team enjoyed themselves and was well-received by locals.
"Greeks are so welcoming, that when we were plucking grapes, [an] old lady came to us and gave us two bunches of washed grapes," said Kozlowski. "That was very nice gesture, and the grapes were delicious."
The team visited Knossos and visited castle ruins on their first day. Other highlights of the trip included a visit to the ocean and a ride on Greece's unpaved hill roads.
"No challenge is too tough for the Boost team," said Ruchlicki. "We have ridden the most dangerous roads of Greece, with rented cars, the sights were breathtaking and the slopes could make many faint, but not us!"
The team also enjoyed the nation's food.
"We never hesitated to try out even the most peculiar Greek meals," said Ruchlicki. "The tastes were so intriguing!"
The team has been working on several "top secret" projects for Boost Software™, many of which the
software company plans to release to the public in 2014. Boost Poland's most recent achievement was the creation of a new version of the company's flagship program, PC HeatlhBoost™ 3.0.
This latest version was designed from the ground up with an improved, easier-to-use user interface, faster performance, and considerations that allow the software to protect users' identity (such as privacy item removal.) Previous versions of the software have been popular with computer owners, with daily downloads of the product typically ranging in the thousands. More information about PC HealthBoost™ is available at PCHealthBoost.com.