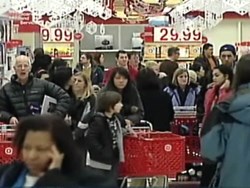 We developed LendDeck.com with the small business owner in mind...
Hallertown, PA (PRWEB) November 23, 2013
Many small businesses rely on the holiday sale season for a large percentage of their annual revenue, and in most cases, stocking up on goods and merchandise for the dramatic seasonal increase in business can be a financial challenge for small businesses with tight cash flow the rest of the year. Some small businesses are able to leverage existing supplier relationships and established credit lines to help fill their shelves with the needed inventory, however if the business owner requires products from new suppliers or if they have had past credit challenges, stocking their retail space for the holiday season can turn into a significant problem. Because of this increasing demand for small business financing a new online service, LendDeck.com has positioned itself to answer the needs of these small businesses with quick and easy financing even if the business owner has poor personal credit.
Lisa Wolfrum, President of SBL Capital Partners stated that, "We developed LendDeck.com with the small business owner in mind and our large network of financing partners look at all aspects of the business in an effort to find a viable way to offer these businesses the cash they need to maintain or expand their business." "While traditional banks and lenders tend to focus on the business owners' credit score, at LendDeck.com we focus on the business operations and the ability for those operations to pay back any amount that is financed," added Wolfrum.
LendDeck.com offers several different types of financing from merchant advances on credit card processing to accounts receivable factoring and cash funding based on the collateral value of existing property or equipment. "If there's a realistic way to get a small business the cash that they need to help them through the tough times, we're going to do our best to find out what that way is for each particular business," stated Wolfrum.
Since beginning earlier this year, LendDeck.com and its funding partners have helped numerous small business owners secure millions of dollars in financing. Small business owners can go to the LendDeck.com website and submit a short request form in less than two minutes and they can expect to be contacted by a representative from LendDeck.com shortly thereafter with more information on completing their financing request. The entire process from the online form submission to cash in hand can happen in as little as three business days.
"We strive to be the fastest and easiest solution to provide financing for small business owners to get the cash they need when they need it, regardless of their personal credit history," concluded Wolfrum.
For more information on Small business financing options that may be available to you or your small business you can visit LendDeck.com.