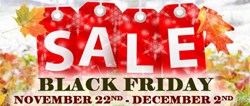 The holiday spirit and the aroma of great cigar deals are in the air at GothamCigars.com during their Black Friday Cigar Deal Days.
Miami, FL (PRWEB) November 25, 2013
GothamCigars.com, America's Online Cigar Store since 2001, has released its Black Friday Cigar Deal Days. For anyone who loves the cigar smoking experience, and the people who are buying cigar gifts for them, this is an event not to be missed. Black Friday Deal Days runs from November 22nd through Cyber Monday, December 2nd. The cigar deals range from percentage off an entire order to individual buy one get one free specials on little cigars and cigarillos.
For cigar gift givers, GothamCigars.com has made it easy for them to give a unique cigar gift for less this year. One example is the rare and sought after La Liga Privada Undercrown cigar with its magnificent blend of spice and nutty undertones in a full bodied smoke. A GothamCigars.com Black Friday special that now comes with an Asti humidor and butane torch lighter at no extra cost with purchase. Gotham has been able to special order a limited quantity and is sure to be a hit with any serious cigar smoker.
The cigar gift ideas don't end there. With any Acid Cigar box purchase they've thrown in a cigar humidor at no extra cost. Select any Alec Bradley cigar as a gift and recipients receive an additional Alec Bradley Easy, long filler Honduran-Nicaraguan cigar 5 pack for free. Give the 91 point Nicaraguan made Nestor Miranda Special Selection Torpedo 10 Pack of cigars and save over 60%. In addition to these cigar deals, Gotham has a wide selection of Buy 1 get 1 and Free Gift with Purchase deals.
GothamCigars.com also has a great cigar accessory deals selection. For Black Friday, GothamCigars.com has taken 20% off their best selling Lotus Cigar lighters. They've also lowered the price on their signature Xikar Jet Flame lighter and thrown in a complimentary can of butane. For those who can't decide on a great cigar gift, they can save 10% on a $100 Cigar Gift Card and let their favorite cigar smoker choose for themselves.
The holiday spirit and the aroma of great cigar deals are in the air at GothamCigars.com during their Black Friday Cigar Deal Days. Visit http://www.gothamcigars.com/black-friday/ to see all of GothamCigar.com's Black Friday Cigar Deal Days specials.
About GothamCigars.com
Since 2001, Gotham Cigars has offered customers one of the country's largest and freshest selections of premium cigars, Machine Made Cigars, Filtered Cigars and Humidors. Gotham Cigars has received five-star ratings by the most trusted online comparison websites for its huge selection, fast shipping and great customer service; Gotham Cigars has become a favored destination for cigar aficionados to buy cigars and accessories online in the US. All of their products have been thoroughly inspected by their manufacturers prior to arriving at the facility to ensure the highest quality for their customers. To learn more, visit http://www.gothamcigars.com.